CHARLOTTE, N.C. -- You'd have bet anything you owned against Julio Jones dropping this ball. Well past the Carolina Panthers' defense, as open as an all-night 7-Eleven, nothing around him but the blue italic capital letters "PANTHERS" on the black background of the end zone, Jones was home free. The pass from Matt Ryan hit him in the hands, and everybody in the stadium knew what that was supposed to mean.
"My heart dropped," Panthers defensive lineman Charles Johnson said. "You see him running free, his hands out like you've seen a million times, I was just like, 'Here we go again.'"
But astoundingly, Johnson's heart wasn't the only thing that dropped. The ball did too. Somehow, it clanged off one of the surest pairs of hands in the NFL. Jones went to the ground, still trying to corral it, but he could not. The play was a fourth-and-7 from the Carolina 39, and if Jones had caught it, the Atlanta Falcons would have been an extra point away from cutting the lead to three points with 8:20 left in their first division game of the season.
Instead, Jones dropped it, and the sound you heard was the underlying plates of the NFC South race shifting away from Atlanta and sharply toward Carolina and New Orleans.
"Definitely helps us in terms of positioning," Panthers coach Ron Rivera said. "My understanding is New Orleans won today, so right now we're just trying to keep pace."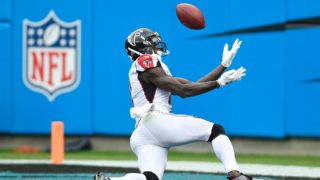 Yes, the reason this game was so important is because of all the winning the New Orleans Saints have been doing. The Saints on Sunday became the third team in NFL history to win six games in a row after starting 0-2 or 0-3. The last two teams to do it -- the 1993 Dallas Cowboys and the 2007 New York Giants -- each won the Super Bowl. What's more, the NFC South champion has represented the conference in the Super Bowl in each of the past two seasons -- a fact with which the Panthers and Falcons are intimately familiar, since they were the ones that did it.
So this race matters, and Carolina's win was huge. Not only did it feel good for the Panthers to beat a division rival that had beaten them three times in a row, the win moved Carolina to 6-3, just a half-game back of 6-2 New Orleans, and dropped the Falcons to 4-4.
"Mentally, we're good, because we know what we've got to do," Falcons running back Devonta Freeman said. "We know the work we've got to put in. We know where we stand in this division. I'm confident that we're going to get back to playing Atlanta Falcon football."
That translated to a 6-2 record in the second half last season. A repeat of that isn't impossible, but it's no sure thing. This Falcons team is struggling with issues that the 2016 team didn't have. The changes to the coaching staff -- most prominently the adjustment from Kyle Shanahan to Steve Sarkisian at offensive coordinator -- have resulted in some growing pains.
The Falcons are committing ill-timed penalties that are stalling or killing their own drives and helping opponents' drives. Two straight penalties -- an illegal formation and a false start -- followed a promising 34-yard gain on their first play on Sunday, and the opening drive fizzled into a field goal. An illegal crackback block and an unnecessary roughness two plays apart handed the Panthers 30 yards on what turned out to be a touchdown drive right before halftime.
The 2016 Falcons were fun, aggressive and high-energy. Does this year's still-young group have the maturity to realize it needs to tighten up in order to succeed?
And even if they did go 6-2 in the second half again this season and got to 10-6, is that going to be enough to catch high-flying New Orleans? And even if it is, is it going to be enough to catch a flawed but obviously very tough Carolina team?
The Panthers' defense locked things down in the second and third quarters on Sunday, keeping the Falcons off the scoreboard, while the Panthers' offense put up 20 straight points. Carolina ran for 201 yards; quarterback Cam Newton, who was not supposed to be running so much this year -- remember? -- had 86 of them. He jumped for the end zone with the ball in one hand for a touchdown. He leaped over the pile to pick up a fourth down. He danced. He shouted. Emotionally, he looked like the 2015 version of himself. Which, for Carolina, would be a good thing.
"When the Panthers are emotionless, that's when good things don't happen," Newton said. "So whether you've got to fake it, whatever you've got to do, if we can get Bank of America Stadium with a pulse, that's when we're at our best."
This week was an emotional one for the Panthers, who somewhat shockingly traded top wide receiver Kelvin Benjamin to the Buffalo Bills at the trade deadline on Tuesday. The idea was to change up the offense, get some speedier guys on the field, and indeed, rookie Curtis Samuel led all Panthers wide receivers in snaps on Sunday. Fellow rookie Christian McCaffrey was all over the box score too, with 94 total yards and a touchdown. Changing the offense on the fly in midseason isn't easy, but the Panthers believe enough in their defense that they think they can pull it off.
"We just watch the defense do what they do, and we try to capitalize off whatever that is," wide receiver Devin Funchess said. "They get that fourth-and-1 stop, we know we've got to make good on that for them."
That stop came with 4:35 left in the second quarter and the Panthers down 10-0. All the Panthers did before halftime was score a touchdown, get an interception and score another touchdown. It doesn't always look pretty right now when Carolina has the ball, and there's a chance it won't get too pretty before the end of the season. But the Panthers tough, and they're mean on defense, and they're miserable to play against. And most importantly, they're 6-3, a game and a half ahead of the Falcons with a head-to-head victory now in hand.
"It's great, but we still have a lot of work to do," Panthers defensive lineman Julius Peppers said. "We feel good about where we're at right now, but we understand we have to keep working."
They understand too that they got a break. The entire Carolina secondary knows what it usually means when Jones gets behind them. The play was cause for relief, not celebration. This Panthers team is wise and experienced enough to know that.
"Sometimes, the ball bounces your way," Panthers safety Kurt Coleman said. "Today, it bounced the Carolina Panthers' way."
Lots more bounces left in this NFC South season. At the midway point, it looks like it might be the Saints' year. But of the two recent division champions on the field here Sunday, Carolina came out with the better chance of canceling New Orleans' parade.