The Minnesota Vikings and Los Angeles Rams are all-in on the season. Super Bowl or bust? We'll see, but they're certainly writing some big checks. When the two NFC front-runners meet Thursday night at the L.A. Memorial Coliseum, there will be nearly a half-billion dollars in guaranteed money on the field.
But it's not all big paydays, though there are plenty of those. The two teams have different ways of spending their money and strategies for handing out extensions, guaranteed money and positional value.
Here's a look at the $448,269,294 Thursday night football game:
Getting every dollar
QB Kirk Cousins was the offseason's biggest free agent. The Vikings got him, believing he was the star QB to get them to a Super Bowl. Minnesota landed Cousins with a historic, $84 million contract that's totally guaranteed. Aside from Cousins, the Vikings did a lot of their spending by giving extensions to defensive end Danielle Hunter and receiver Stefon Diggs.
The Rams, on the other hand, went wild over the offseason in an attempt to build a Super Bowl-caliber team for the 2018 season and, they hope, for the foreseeable future. They signed defensive tackle Ndamukong Suh to a one-year, $14 million deal in free agency. After trading a first- and sixth-round pick to the New England Patriots in exchange for receiver Brandin Cooks, they then signed Cooks to a five-year, $81 million extension, with $50.5 million guaranteed -- before he ever played a snap in L.A. On the eve of training camp, the spending spree continued as Todd Gurley reset the running back market and signed a four-year, $60 million contract, with $45 million guaranteed.
And the Rams still weren't done spending. In a deal that was negotiated for 18 months, star defensive tackle Aaron Donald signed a six-year extension worth $135 million, with $87 million guaranteed.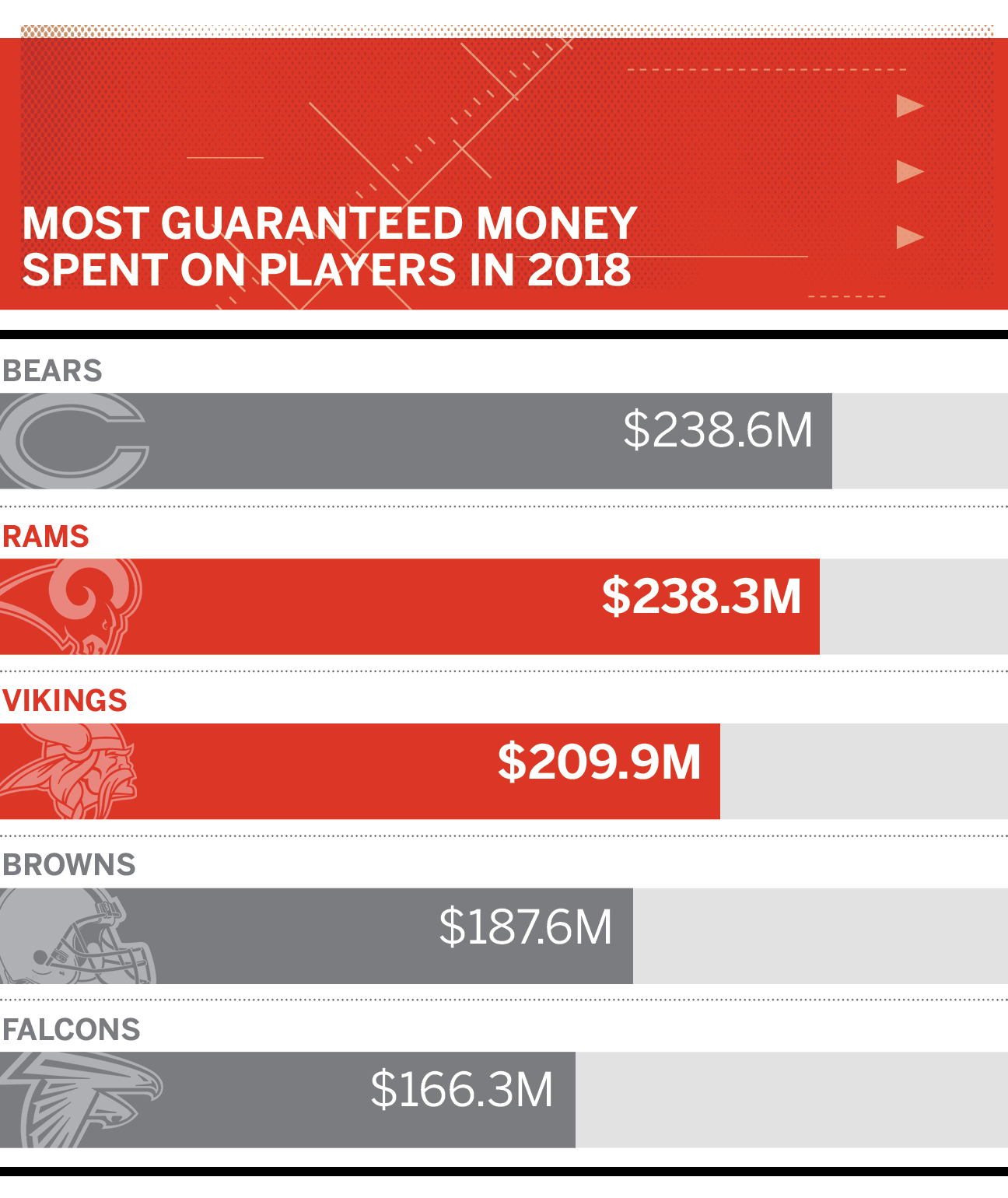 The Rams would have been responsible for the most guaranteed money in the NFL this year had it not been for the Chicago Bears' trade for Oakland Raiders linebacker Khalil Mack. Mack's extension, which made him the highest-paid defensive player in NFL history, vaulted the Bears to the top spot and came just a day after Donald's signing.
Setting the market
With all the extensions and guarantees, this game will feature 14 players who are among the top-10 highest-paid players at their position.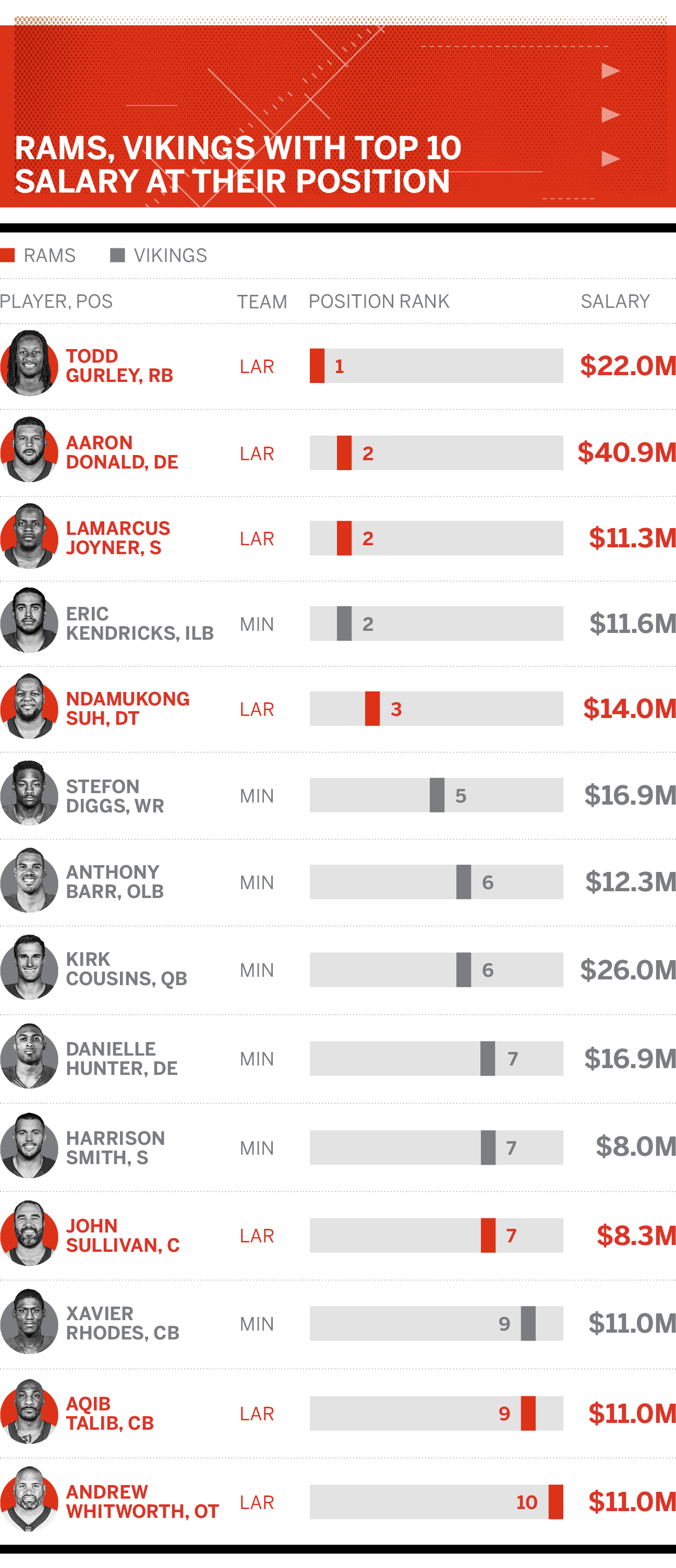 Goff vs. Cousins
The Rams were able to spend so much money largely because their QB, Jared Goff, is still on his rookie contract. Because of that, Goff will make less than $3 million this season. His counterpart in Minnesota has already made that and then some through three games this season.
With Cousins on a massive new deal and Goff on a team-friendly rookie contract, it makes for some interesting in-game financial comparisons.
Pay gap in the backfield
If you think the Rams are getting a steal with Goff's rookie contract, the Vikings are doing just fine with running back Dalvin Cook's deal. The second-year back was a second-round draft pick and will make just $753,788 this season, or $44,340.41 per game.
Cousins, on the other hand, will make $1,529,412 per game in 2018. At that rate, it would take Cook a whopping 35 games to make what Cousins does in one game.
What's ahead in 2019?
In 2019, the bill won't entirely come due, but the 2018 spending spree means both teams will have plenty of difficult decisions to make. The Rams will have just over $40 million in salary-cap space. Suh, playing on a one-year, $14 million deal, is unlikely to return. The Rams also will need to closely examine the contracts of cornerback Aqib Talib, who is scheduled to earn $8 million, and linebacker Mark Barron, who will earn $9 million. That cap amount would allow the Rams to evaluate extensions for cornerback Marcus Peters, who would be an unrestricted free agent in 2020, and safety Lamarcus Joyner, who is playing on the franchise tag and will be eligible to become an unrestricted free agent after the season; and to address their aging offensive line.
The Vikings, by comparison, are in a tighter position. They would have just over $9 million in cap space, based on current contracts. Defensive tackle Sheldon Richardson and linebacker Anthony Barr would become free agents after this season and Barr could get the franchise tag, but his play has been down this season. After that, Minnesota would need to make some decisions with receiver Adam Thielen, tight end Kyle Rudolph, corner Trae Waynes and safety Andrew Sendejo, who are set to be unrestricted free agents after 2019.
But if one of these teams wins the Super Bowl, wouldn't all that money spent have been worth it?
Courtney Cronin contributed to this story.