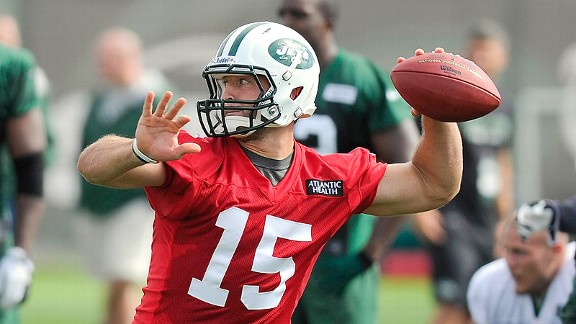 Rich Barnes/US Presswire
How did Tim Tebow feel about the start of Jets camp? Would you believe he was excited?
CORTLAND, N.Y. -- Tim Tebow got his reps in as Jets offensive coordinator Tony Sparano looked on carefully. Sparano reminded the Jets' backup quarterback to work on his pacing and his rhythm, letting Tebow know when he got it right.
After one successful throw downfield, Sparano patted Tebow on the back of the helmet as he returned from the line of scrimmage.
Unofficial stats from practice
Team drills (11-on-11)
Passing drills (7-on-7)
In terms of time with the ball, there wasn't much difference between the backup and starting quarterback Mark Sanchez on the first day of Jets camp. Both got plenty of reps, and Tebow had the additional time working with the punt team.
Afterward, Sanchez and Tebow paused for media scrums about equal in size. But if you worry their relationship might strain under the constant scrutiny, Tebow said not to worry.
"I think that's something we honestly handle pretty well, just talking about it, and there's nothing we can really do," Tebow said. "It's who we are and where we're placed at and there's not a lot that we can control about it. I think our relationship really helps with that ... just knowing that we don't control anything that happens outside of the building."
Tebow completed all four of his passes, all short. Rex Ryan offered a mixed review of Tebow's first day, and he talked a little about the options he presents in pass protection.
"The goal is to keep the punt return team off balance and not let them know what we're doing," Tebow said.
Whether there is any disappointment that, after taking the Broncos to the playoffs last season, he comes in as the backup to another team, Tebow didn't let on.
"Always the first day you're very excited," said Tebow, using the description he gravitates to most. "I felt like because it was a new team I was probably a little extra excited."