The NFL threw Mike Sando and I the first curveball of our Inside Slant podcast careers Wednesday morning. The league reportedly had a breakthrough in negotiations with its locked-out officials, according to ESPN's Chris Mortensen, and the Replacement Official era could be over within days.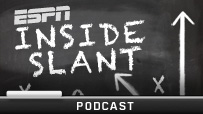 (In the end, the replacement refs couldn't even outlast Coy and Vance Duke. What a shame.)
Anyway, Mike and I adjusted and spent the entire podcast

discussing the fallout from this two-month debacle. For me, the biggest stunner is how willingly the NFL exposed itself to outside influences -- i.e. gambling -- by weakening its first line of defense against corruption.
To be clear, we have no evidence that anything untoward has occurred. But Monday night's final play at CenturyLink Field was so obvious, and the calls were so wrong, that it was fair to at least consider all possibilities. The NFL's flawed replacement plan provided the opportunity for that discussion, an incredible risk and challenge to the integrity of the game.
After all, it was commissioner Roger Goodell himself who said these words at the NFL owners meeting in March after speaking with a group of fans: "The one thing that really struck me from the fans' reaction was how important integrity of the game was. They put that as number one on their list. One of the fans articulated it in a very simple fashion: I want to know what I am seeing is real and that there are no outside influences. I think that resonated with people; it certainly did with me."
The context was Goodell's campaign against the New Orleans Saints' bounty program, but they ring true in the case of the replacement officials as well. Anyway, listen to the podcast to hear more blathering on the topic.