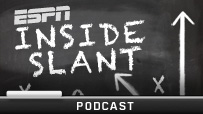 The NFL and its regular officiating crews were moving closer toward an agreement when Kevin Seifert and I recorded our weekly "Inside Slant" podcast this week.
In it, Kevin references a pertinent quote from NFL commissioner Roger Goodell:
"I have the good fortune of hearing from fans directly throughout the year. The one thing that really struck me from the fans reaction was how important integrity of the game was. They put that as No. 1 on their list. One of the fans articulated it in a very simple fashion: I want to know what I am seeing is real and that there are no outside influences. I think that resonated with people; it certainly did with me."
Goodell spoke those words in March. Recent events have called them into question. Kevin and I discussed the implications, touching upon gambling and some strong words from Green Bay Packers quarterback Aaron Rodgers.
Rodgers, in part: "The game is being tarnished by an NFL who obviously cares more about saving some money than having the integrity of the game."