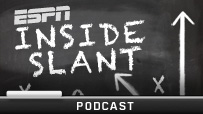 NFC West teams are getting up-close looks at Tom Brady, Eli Manning, Aaron Rodgers, Jay Cutler, Tony Romo, Robert Griffin III, Matthew Stafford and Drew Brees this season. So far, not so bad. Defenses have held up more frequently than not.
These quarterbacks have been big producers this season or in the recent past, at least. We tend to value them most for their contributions in the clutch, but what if we've got it all wrong? Kevin Seifert and I used our latest "Inside Slant" podcast to strip away potential misconceptions regarding Brady in particular and clutch moments in particular.
Special thanks to Chase Stuart, Jeff Bennett and Alok Pattani for inspiring and informing our discussion. Stuart's piece on Robert Griffin III and Andrew Luck included a line that encouraged a deeper look at some of the late-game struggles marking Brady's career in recent seasons.
"As a general rule," Stuart wrote, "statisticians agree that clutch performance is not predictable or repeatable, but no one doubts its impact in explaining what happened."
Hope you enjoy the discussion.