Conventional wisdom suggests there are two explanations for any draft pick. The team either has an immediate need for the player's services, or it has followed a "best player available" approach.
In a special draft edition of the Inside Slant podcast

, Mike Sando and I considered a third classification: the "hidden/future" need.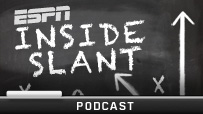 It's time we all realized that some seemingly inexplicable draft picks would make plenty of sense if we investigated further and projected the team's roster two or three seasons in the future. Certainly there are occasions when teams make poor decisions, but more often than you think, they are drafting for an anticipated need.
How will that apply to the NFC North? Mike and I discussed several examples on the podcast.
We shouldn't be stunned and hypercritical, for example, if the Detroit Lions draft a tight end at some point over the three days. It might not be a pressing need at the moment, but look deeper. Both Brandon Pettigrew and Tony Scheffler are entering the final years of their contracts. In a tight cap situation, will the Lions have two veteran tight ends with veteran salaries in 2014? That seems unlikely.
Similarly, it wouldn't be a stunner if the Green Bay Packers draft a tight end, either. The contracts of Jermichael Finley, Andrew Quarless and Matthew Mulligan are all set to expire after the season.
Does that mean the Lions or Packers will draft a tight end? Not necessarily. But if they do, or if another team makes an equally counterintuitive move, maybe we shouldn't be surprised. Maybe we just need to look closer and think harder.