Three nuggets of knowledge about Sunday's AFC Championship Game between the New York Jets (11-7) and Indianapolis Colts (15-2):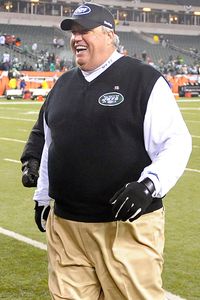 Kirby Lee/Image of Sport-US PRESSWIRE
Jets coach Rex Ryan's defenses have had trouble stopping Peyton Manning in the past.
1. Rex Ryan doesn't have a favorable history against Peyton Manning. Ryan established his reputation as a defensive genius during his decade with the Baltimore Ravens, and despite overseeing some of the greatest units of this generation, he has been unsuccessful in trying to solve Manning. When the Jets beat the Colts in Week 16, Manning left the game with a 15-10 lead. Backup quarterback Curtis Painter should be charged with that loss, much like a reliever with a blown save. Eliminating that game, Manning has gone 6-1 against a Ryan-influenced defense. Manning has posted big points, too. Only once have the Colts been held to under 20 points, when they scored 15 to eliminate the Ravens from the 2006 playoffs.
2. Time of possession will be critical for the Jets. The Miami Dolphins established the offensive blueprint for defeating the Colts when they met on Monday night in Week 2. The Dolphins nearly knocked them off by dominating in time of possession, obnoxiously holding onto the ball for 45 minutes, 7 seconds. Problem is, the Dolphins' defense played like cardboard cutouts and surrendered 10.2 yards per play in a 27-23 loss. The Jets' defense can contain the Colts better than the Dolphins. If the Jets maintain no worse than a one-score deficit, then their offense will be able to keep handing off to Shonn Greene and Thomas Jones against the 24th-ranked run defense. The benefit would be twofold: It would prevent Mark Sanchez from being forced into a shootout and will keep Manning off the field.
3. The Jets can't expect to get multiple big breaks again. A lot of talk in the Jets' locker room this week justified the notion they can go toe-to-toe with the Colts because they played them so tightly a month ago in Indianapolis before Manning and other starters were removed from the game. But the Jets can't deny the repeated blessings they received before then. How often can they count on Brad Smith to return a kickoff 106 yards? What about blocking another extra point? Can the Jets count on another below-standard Manning performance and expect him to misfire with Reggie Wayne as often as he did the last time? No, no and no.