Five nuggets of knowledge about Sunday's NFC Championship Game between the Minnesota Vikings (13-4) and the New Orleans Saints (14-3).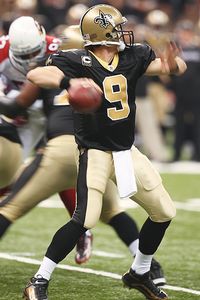 Scott Cunningham/Getty Images
A victory in the NFC Championship Game would be a signature win for quarterback Drew Brees.1. This is Drew Brees' game. Yes, all the hype has been about Brett Favre. When a 40-year-old legend gets his team this far, that's expected. But I think this game is more about the legacy of Brees. For the past few years, he has put up numbers that put him in the conversation with Peyton Manning, Tom Brady and Favre as the league's best quarterback. But the one thing Brees doesn't have that they all do is a signature win. It might be time for Brees to sign his autograph.
2. Reggie Bush will be a huge factor. I wrote in this space a week ago that Bush would be a huge factor against the Cardinals -- and he was. My logic was simple. When you throw a bunch of good athletes on the field, the best athlete out there will rise up and make plays. Once again, I think Bush is the best athlete stepping onto the Superdome floor Sunday.
3. Matchup of the week? It seems like the ultimate mismatch with New Orleans left tackle Jermon Bushrod going against Minnesota defensive end Jared Allen. On paper, it probably is. But let's face it, the Saints aren't going to leave Bushrod on an island by himself. They've been covering him up with help all season as he's filled in for an injured Jammal Brown. Bushrod hasn't really been exploited because the Saints help him and their offense is designed for Brees to get rid of the ball quickly. This matchup might not be as big a deal as many people think.
4. Payton's big chance. We already mentioned how important this game is for Brees' status. It's kind of the same deal for his coach, Sean Payton. This will be two NFC Championship Games in four seasons. Win this one and Payton will go from being just a great offensive mind to being a great head coach.
5. Sharper image. We've heard all week about New Orleans safety Darren Sharper's familiarity with Favre. A lot of people have said that could work to the Saints' advantage. But Payton has done his best to downplay that aspect and frequently said players going against former teams is overrated. I disagree. I think Sharper's knowledge of Favre is important, and I'm guessing that the Saints have been tapping into it all week. But I think the real issue here isn't so much what Sharper can tell his teammates. I think it's whether Sharper can take all his knowledge of Favre and come up with an interception against his former teammate.