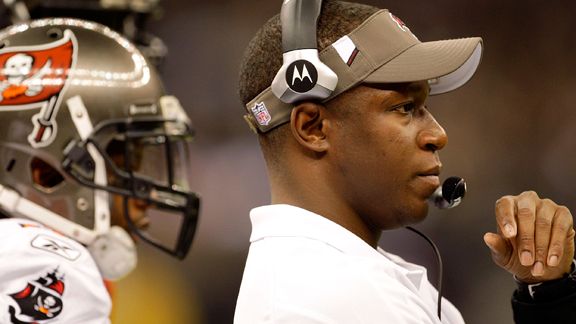 Jamie Squire/Getty Images
Coach Raheem Morris' Buccaneers took down one of the best teams in the league Sunday.NEW ORLEANS -- On a day when speculation about Raheem Morris' future was running wild, the coach of the Tampa Bay Buccaneers might have emerged safer than ever.
"This is the best job in football,'' Morris said soon after the Bucs upset the Saints with a 20-17 overtime win Sunday.
And it still is Morris' job.
"I've got a great relationship with my owners,'' Morris said. "I'm pretty sure if I'm getting popped or fired my owners would come tell me.''
Joel and Bryan Glazer, who run the franchise, sure didn't look they were ready to fire Morris after his team came back to win after trailing 17-0. They were smiling out in the hallway of the Superdome and shaking hands with players, coaches and team employees.
They exchanged pleasantries with the media, but declined any formal comment about reports from several media outlets that the Bucs had been in contact with Bill Cowher about their head-coaching job. Team officials denied there has been any contact with Cowher.
If the Bucs seriously were thinking about pulling the plug on Morris after one season, they might want to re-think it because of what happened Sunday. The team and the coach who looked so hopeless for much of the season suddenly has hope.
"It wasn't a learning process for me today, but it may have been for [the media],'' Morris said. "They are starting to get there. They like winning. They found that out last week. They found that out against Green Bay. This team has the talent and the ability.''
It's finally starting to show.
The Bucs came into a very loud Superdome and beat one of the league's best teams. They beat Drew Brees and held the Saints scoreless in the second half. Consider that pretty strong evidence that Morris' plan is taking hold.
Morris has been saying all season that he's got a good team and it turns out he just might be right.
"I know this team is getting better,'' Morris said. "I could see it every week when were losing. That's how we play and how we should play like all of the time.''
Put this victory on top of last week's in Seattle and this rebuilding process suddenly starts to make sense. Could this be kind of like 1996, when Tony Dungy came in and struggled early, but had the franchise in the playoffs the next season?
There are similarities. Those Bucs finished strong and these Bucs are finishing strong. No matter what happens in next week's regular-season finale with Atlanta, the Bucs have established some promise as they head into the offseason.
Rookie quarterback Josh Freeman is the real deal. For the first time since Doug Williams, the Bucs have a true franchise quarterback. Yes, it's early in his career and there still will be ups and downs. But think about what he did Sunday.
He beat Brees. The kid doesn't even turn 22 until next month.
"We never felt out of it,'' Freeman said.
By all rights, the Bucs should have been out of it. It should have been over when they fell behind a team that came in with a 13-1 record. But then you saw Freeman and the Bucs grow up right in front of us.
Freeman was pretty close to flawless in the second half as he completed nine of 13 passes for 136 yards, and he wasn't the only bright spot. The defense played a great second half and Cadillac Williams carried 24 times for 129 yards.
Think about that. The Bucs have a promising quarterback, a good running game and a defense that shut down one of the league's best offenses.
Maybe they don't need Cowher to come in and fix the mess. Maybe the mess already is being fixed. Maybe, after some very rocky times, Morris is showing he really can coach in this league.