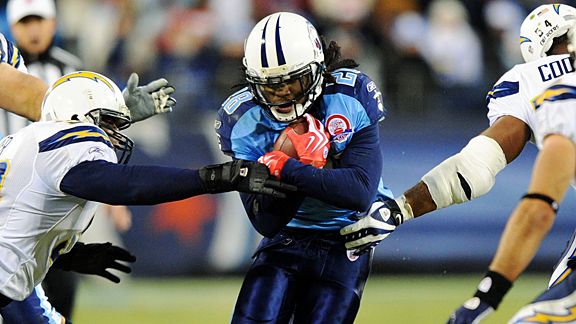 Don McPeak/US Presswire
While Tennessee's playoff hopes were crushed in convincing fashion Friday night, the Titans are pushing hard to get running back Chris Johnson past the 2,000-yard rushing mark this season.
NASHVILLE, Tenn. -- For weeks, the individual and team goals neatly synchronized. For the Tennessee Titans to give themselves a shot at the playoffs, they needed to ride Chris Johnson. Riding Johnson maximized his chances at reaching 2,000 rushing yards.
After the Titans suffered a 42-17 Christmas night rout at the hands of the San Diego Chargers, the team dream is dead. The 2009 Titans will not be part of the AFC playoff field, and the best they can manage is an 8-8 record.
Talk as they might about the comeback from an 0-6 start, the Titans can take little solace in a .500 season. It won't soothe the fact they dropped so far after recording a 13-3 mark -- the NFL's best -- in 2008. This year's team lost to good teams like San Diego and beat bad teams like St. Louis. It deserves to be called average.
The Titans had done well to focus forward since their bye fell after the 0-6 nightmare start. Even after a Dec. 6 loss at Indianapolis, they managed to keep faint playoff hopes alive. Now pull back and look broadly at what they've done, and you have to see the 0-6 start as the story of the season.
"Yeah, it is, that is very fair," tight end Alge Crumpler said. "…We had a run that hadn't been done before (after 0-6). We had gotten out of that catch-up mode. We were scrapping, we were fighting, our backs were in a corner, we were getting out of the situation and I didn't see this coming. I just felt very good going into this ballgame. For it to happen like this is pissing me off."
"You've got to finish, and we didn't finish," fullback Ahmard Hall said.
It was Vince Young's worst game since he took over as the starter on Nov. 1. He threw two picks, lost a fumble and hit on just eight of his 21 passes for 89 yards. His 11.9 passer rating was 18.3 points worse than his previous low.
"Every time we did get in a rhythm, I turned the ball over," he said.
The game featured hallmarks of a lot of other Tennessee losses: Big plays yielded by the secondary, poor red zone defense, too many penalties.
One of them, sadly, came after William Hayes was flagged 15 yards for roughing Philip Rivers. Defensive coordinator Chuck Cecil was so livid over the call, he doubled the Chargers' reward by drawing a flag for unsportsmanlike conduct. Jeff Fisher pledged he'll "get to the bottom of it," as if dissecting it afterward will be effective. Why is this allowed to happen in the first place?
Well before the season started in a much calmer moment, Cecil told me about how in studying a college prospect on defense he'd seen then-East Carolina star Johnson play. He chimed in to team brass, certainly already intrigued, that the running back could help the Titans more than anyone on the other side of the ball.
Considering how often the Titans were behind this year, Johnson's bid for two grand is all the more remarkable -- though Chargers linebacker Shawne Merriman said not all of Johnson's 142 rushing yards were hard-earned.
"The game got out of hand and whatever the case is and they want to give him his yards, then that was all right with us," Merriman said.
When the Titans play in Seattle on Jan. 3, just 128 rushing yards can make Johnson the sixth player in history to reach the mark in a single season. He's averaged 124.8 a game so far.
"That was one of my goals that I set before this year started and a lot of people didn't even think I would get close or whatever," Johnson said. "To get that record would mean a lot to me."
A new all-time single-season rushing record is 234 yards away (the old Los Angeles Rams' Eric Dickerson, 2, 105 yards in 1984). Still, Johnson needs just 75 yards from scrimmage to shoot past Marshall Faulk (who gained 2,429 from scrimmage for the St. Louis Rams in 1999) for the record in that department.
While Johnson's name goes on the individual records, it's very much a team goal. Even Titans defenders talked about how much they want it.
Early in the season, Johnson said his offensive linemen were in line for cars if he got 2,000 rushing yards. He backed off that pretty quickly, probably after someone drew him into a discussion about the financial math, saying the storyline grew from the linemen's plea for such a reward.
Friday night he said he'd already gotten the linemen and Crumpler gifts, but couldn't reveal what they are.
Told that, Crumpler said: "I don't want [expletive] unless we get 2,000."
Earlier I talked with the veteran tight end about the improbability of Johnson even being in range.
"You tell me how you start out 0-6, you have to throw the football and you have 2,000 yards in your sights," Crumpler said. "That shouldn't be a part of the equation. I want to make sure when I walk off that field next Sunday that I gave it all I had to help him accomplish a goal that he set.
"I don't take any yard for granted. But it's attainable. And I know that coach over there [the Seahawks head coach Jim Mora Jr., who worked with Crumpler when they were Atlanta Falcons] real well and he is going to do every damn thing he can to keep him from getting it."