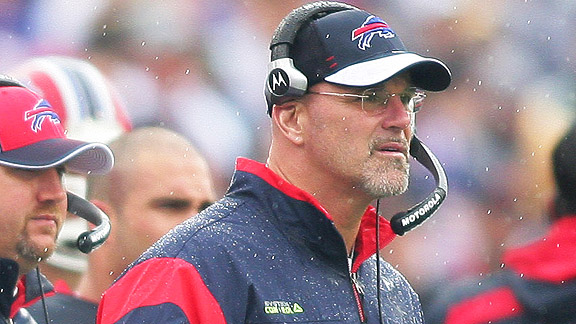 Luc Leclerc/US Presswire
Coach Sean Kugler has struggled all season to field a healthy offensive line.
ORCHARD PARK, N.Y. -- The past few months, Boise State coach Chris Petersen has been on the phone with Sean Kugler frequently, much more than with other former assistants.
The pace gets too hectic for chitchat once training camp begins in July, morphs into the preseason and hurtles headlong into four months of incessant tension.
Yet Kugler, the Buffalo Bills offensive line coach, and Petersen keep finding the time to check in. The conversations are a necessary catharsis.
Every call, it seems, Kugler has another horror to share.
"A couple times," Petersen said, "I'm like, 'You've got to be making this up.' All the guys that he's lost ... It seems one thing just leads to another."
What has transpired on the Bills' beleaguered offensive line has been symbolic of the team's woebegone season. As receiver Terrell Owens has repeatedly pointed out, the line's problems are the reason the offense hasn't been what everyone hoped.
Buffalo's football operations department left the line woefully inexperienced at the start of the year, and it deteriorated from there. It's the NFL's most-penalized unit. One of the five has started all 13 games at his position. Four who've started are on injured reserve. Kugler has patched together seven different starting combinations and could assemble an eighth Sunday against the New England Patriots in Ralph Wilson Stadium.
On top of that, the Bills fired the man who brought Kugler back to the NFL. In mid-November, the club dismissed Dick Jauron, a man Kugler had become close with while assistants with the Detroit Lions.
"This has been extreme," Kugler said, mustering a slight, weary smile. "I tell these guys, 'You're going to look back on it one year and laugh. That's all you can do. You just can't sit there and dwell on it. You have to keep grinding.' "
Center Geoff Hangartner doesn't see the humor.
"I'm not laughing right now," said Hangartner, who signed with the Bills as a free agent in the offseason. "It's not funny. It might be a little while before you can kind of see the comedy in what's going on.
"I wouldn't wish this on anybody."
Hangartner is the only member of the offensive line who can put the season in proper context. He's the one who has been in the same spot every game. The rest is a collection of rookies, reserves, street free agents and, with Wednesday's acquisition of Richie Incognito, a waiver-wire pickup.
"I walked into the training room one day," Hangartner said, "and there were four offensive linemen, lying on the tables all next to each other. All starters at some point in the season.
"For lack of a better phrase 'Holy [expletive]! Look at that right there! That's a starting offensive line, just lying on a table!' I feel like a survivor. Crazy."
That the Bills have won five games, including two of their past four games, is amazing given their offensive line's travails. A unit that committed eight false starts in Week 5 actually has curtailed its penalties while chaos has intensified.
Kugler must get some credit for that.
"I've never even heard of anything like this," Hangartner said. "Koogs has done a good job of keeping us together."
The Bills traded away two-time Pro Bowl left tackle Jason Peters and failed to replace him. They went into camp with not a single lineman in the same spot as he was in last year. They moved veteran right tackle Langston Walker from right tackle to left tackle, and then cut him days before the season began.
Kugler opened the season with a combined 56 NFL starts across his line. Then the injuries, one after another, started coming. By Week 6, their starting lineup was down to 47 starts among them.
"It's hard enough when you have to lose one guy," Petersen said. "You lose all those guys and their backups, it makes you feel like 'This isn't fair.' It's hard enough to win games when you've got all your troops in line.
"I know Sean's frustrated. Those are hard things to go through in terms of your professional career, not only what's happened on the line, but with Coach Jauron, who he loves and respects so much. ... I just think it says it all about him as a coach and a person to fight as hard as he's been fighting. They're still winning games."
Kugler was a tackle at Texas-El Paso during some bleak years. In a 1988 USA Today article, with the Miners at an astonishing 8-1, Kugler recalled how humiliating it'd been in El Paso.
"You used to go into a restaurant and people would ask you if you played football,'' Kugler told USA Today. "You'd say, 'Naaah. I'm a construction worker.' "
He can't get away with that in Western New York now.
"No," Kugler said Wednesday at the Bills' field house. "I'm a fireman now."
The ability to laugh, Petersen said, is what's keeping Kugler sane.
Kugler spent one season as the assistant head coach at Boise State, and it was a ripsnorter. The Broncos were the lone undefeated Division I-A team in 2006. They finished 13-0 with a victory over the Oklahoma Sooners in the Fiesta Bowl, one of the most scintillating finishes in college football history. Despite being BCS outsiders, the Broncos finished No. 5 in the country.
Boise State was building something special, but when Jauron called, Kugler couldn't refuse the offer.
The reason Kugler can't pass himself off as a construction worker or fireman around these parts is because he's from here. A native of nearby Lockport, N.Y., he grew up a passionate Bills fan. His grandmother's house was close enough to the stadium that he could park there and walk to the games. His wife is from the area. His two sons play at Orchard Park High.
That has made the season more trying for Kugler. He left a rising Boise State program to come home and achieve greatness alongside a treasured colleague. Nothing resembling that has occurred.
"It stings even more when you lose," Kugler said. "You understand the mentality of the people around here and how much it means to them when the Bills win. So you want to win."
Whether Kugler sticks around next year is uncertain. The Bills haven't made a permanent hire to replace Jauron. The next head coach might bring an offensive coordinator with him or simply want to clean house of an organization that hasn't reached the playoffs in a decade.
Whatever transpires, Kugler will look back on the season and laugh -- if only to keep from crying.
"I'm proud of those guys," Kugler said. "It's been difficult. You feel bad because as an offensive line you want to do more for the team. I know those guys are giving everything they've got. As a coach, I can't ask for more."