NASHVILLE, Tenn. -- In an ideal world, a backup quarterback's game matches up with the guy ahead of him.
But when you're No. 1 is Vince Young, you're not finding a carbon-copy type.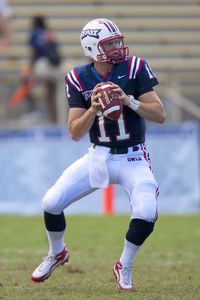 Michael DeHoog/Sports Imagery/ Getty Images
The Titans think Florida Atlantic's Rusty Smith is a pro-style quarterback."I don't know if you can find many molds behind Vince, it's hard to find that type of guy that's that athletic, that's that good," offensive coordinator Mike Heimerdinger said. "They don't make many of those. I think what you're hoping for is you don't have to change the offense much."
The Titans spent the 176th pick in the sixth round on Rusty Smith, who they hope to develop behind Young. They also have veterans Kerry Collins and Chris Simms on the roster.
Given they cannot get a Young clone as their backup, it's clear the Titans' preference is a guy who wasn't in the shotgun running the sort of spread offense Young operated when he was at Texans.
"[Smith] is a pro-style quarterback and he's got a strong arm," scout Cole Proctor said.
"His mobility is pretty good," Heimerdinger said. "He's a pocket passer that's not going to set any 40-yard records, but he slides great in the pocket. I love his technique. His feet are always underneath him. He can get rid of it from any place he needs to. He makes all the throws. He's one of the few guys that's taken snaps consistently from underneath the center... He's a true pocket quarterback."
While Smith is a pro-style prototype, he's got an interesting connection with the new hottest thing out of a spread system, Tim Tebow, who was drafted by Denver in the first round.
They are both members of Jacksonville's First Baptist Church.
I asked Smith during a conference call with Tennessee media if they ever have the chance to talk spread versus pro style.
No, he said. They've spoken 15-20 times, but it's a "very, very, very big church."