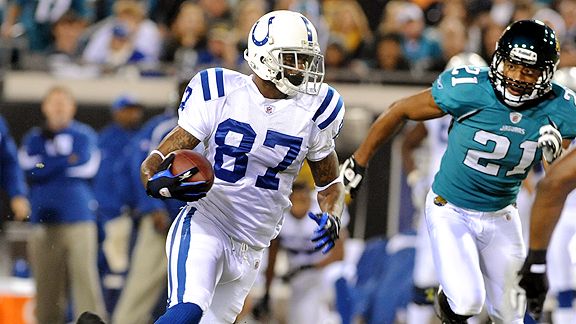 Al Messerschmidt/Getty Images
Reggie Wayne caught a 65-yard touchdown from Peyton Manning to give the Colts the lead.
JACKSONVILLE, Fla. -- For three games, he'd dissolved into the background, an unnatural place for a playmaker of his ability.
Reggie Wayne knew his presence still dictated coverages, that a slice of what Austin Collie and Pierre Garcon and even Dallas Clark were doing was on his account. Colts quarterback Peyton Manning repeatedly said so as Wayne didn't catch more than four balls, didn't break a play longer than 23 yards and didn't have more than 48 yards receiving in a game.
On Thursday night against the Jaguars, he knew something else too -- he could find room down the sideline.
"Throughout the game they were kind of playing off and looking inside, looking at the quarterback," Wayne said. "I just felt like there was a play somewhere in the game where I could just run by them if we could just control the safety with a route."
When it arrived, Wayne ran past Derek Cox, saw Reggie Nelson occupied for a second by Collie and ran under a perfectly placed Manning pass for a 65-yard touchdown that provided the winning points with 5 minutes and 23 seconds left in a 35-31 win. In the unbeaten Colts' 14th win of the season and 23rd in a row in the regular season, Wayne finished with five catches on seven balls aimed his direction for 132 yards and the score.
In front of their lone sellout of the season and in their first nationally televised game, the Jaguars (7-7) bucked an offensive trend with excellent red-zone production on offense. But the Jaguars needed to make sure they didn't get burned with big plays, and they'd used up their allotment of one when Chad Simpson returned a kickoff 93 yards for a touchdown in the second quarter.
Cox, the rookie who's a definite building block, and Nelson, the 2007 first-rounder who's become largely unreliable, combined to allow for Wayne's game-breaker. Cox didn't try to knock Wayne off his route or his rhythm and couldn't catch up to him as he ran by; Nelson's angle was too sharp and his pursuit was fruitless.
"Manning just went to his playmaker, and he was in position to make a play," Cox said. "We just didn't execute properly... We wanted to eliminate the big play, any explosives. If you make them drive the length of the field, maybe the defense will hold up, maybe we'll get an interception, cause a fumble."
Long appreciated as a No. 1-caliber receiver, Wayne was on the same team as an all-time great until Marvin Harrison and the Colts divorced during the offseason.
At Jacksonville Municipal Stadium, his yards put him past legendary Baltimore Colts receiver Raymond Berry into second place on the franchise's all-time receiving list with 9,339 yards.
It wins him the respect of his coach, his competition and his colleagues.
Jim Caldwell saluted him for passing Berry while Torry Holt, Manning and Collie also lavished praise.
"I have a tremendous amount of respect for Reggie Wayne and the way that he operates," said Holt, the veteran the Jaguars brought in to help lead a young group. "I like the way he remains patient. Tonight he remained patient, he stayed in his routes, and Peyton was able to hit him with that long one. It's just a tremendous amount of maturity on Reggie's part, understanding how the game develops. He and Peyton there, it was something they saw that enabled him to get open."
"His presence just dictates so much of what a defense is going to do, the way they defend us," said Manning, who passed for 308 yards and four TDs. "He wants to win. Like all great receivers, he wants the ball because he feels like that's going to help our chances of winning, and he's exactly right."
Said Collie: "You look at tape and you can tell they know who the guy is, who the playmaker is. He's done a great job of helping us out. …You've got to put your attention on that person, and between him and Dallas Clark, I think it does open up some stuff for me."
Take away the biggie and Wayne would have had four catches for 67 yards, numbers I am sure the Jaguars would have been thrilled with.
Instead, Cox and Nelson will be answering in a film session for how it unfolded. And the Jaguars will wonder how a team that had a grip on the AFC's final playoff berth goes about attempting to regain that hold.
The Colts are facing another, stronger round of questions about whether they will rest or play starters in their final two games against the Jets and Bills. If they pull key people early in those two, Wayne could be among the first to get the rest, again creating opportunity for Collie and Garcon. If that's the case, it'll hardly be like Week 14 in a home win over Denver, when he was barely a statistical factor in a game in which Brandon Marshall caught an NFL-record 21 passes.
Wayne joked after that he would have enjoyed just a couple of those receptions. Although there hadn't been huge production from Wayne recently, don't be fooled. He was being unselfish but still getting important results.
"It would be easy for him to be upset or pout, but he doesn't,"' Collie said. "And when a play is needed in crunch time, he's the one who makes it. He's done a wonderful job setting an example for us young guys as far as what a receiver should be."