Five nuggets of knowledge about Week 15: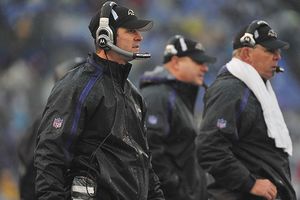 Larry French/Getty Images
Coach John Harbaugh's Ravens have the inside track to a wild-card spot.
Ravens in control: The Baltimore Ravens are thanking the Indianapolis Colts this week for giving them possession of the final wild-card spot. Indianapolis' 35-31 victory Thursday over the Jacksonville Jaguars (7-7) moved Baltimore (7-6) into the final AFC wild-card spot with three games left. They begin their final push Sunday in Baltimore against the Chicago Bears (5-8). The time on the game was moved from 1 p.m. to 4:15 p.m. After that, they have road games against the Pittsburgh Steelers (6-7) and Oakland Raiders (4-9).
In memory of Henry: The Cincinnati Bengals are dedicating the remainder of the season to former receiver Chris Henry, who died Thursday following a domestic incident with his fiancée. The Bengals (9-4) will wear No. 15 helmet decals when they take the field this weekend against the San Diego Chargers (10-3). The winner of this game has the inside track to securing the No. 2 seed and a first-round bye in the playoffs.
Unknown replacement: Unless you watched HBO's "Hard Knocks" series this summer, most fans are not familiar with Bengals safety Tom Nelson. The undrafted rookie was impressive in training camp and will get his first career start against San Diego. Veteran starting safety Chris Crocker re-injured his ankle in last week's loss to the Minnesota Vikings and is expected to be sidelined two to three weeks. Nelson draws a tough assignment right away with San Diego, which has an explosive receiving corps and one of the NFL's top tight ends in Antonio Gates. Nelson has 12 tackles and one interception this season.
Battle of 3-4 defenses: Sunday's game between the Steelers (6-7) and Green Bay Packers (9-4) will have an AFC North feel as both teams play 3-4 defenses. The Packers, who are playing the scheme for the first time under new defensive coordinator Dom Capers, are actually ranked slightly ahead of Pittsburgh in total defense at No. 2. The Steelers are No. 4. Three of the four teams in the AFC North play a 3-4 scheme, with the only exception being the Bengals.
Going for two: It's been more than a year since the Cleveland Browns (2-11) won two games in a row. But they have a good chance to pull off the feat Sunday against the equally bad Kansas City Chiefs (3-10). The Browns, who beat the rival Steelers last week, last won two straight from Sept. 28-Oct. 13, 2008 (A bye week was in between the two victories). A win at Kansas City could end that lengthy drought and also give first-year coach Eric Mangini his first winning streak with the team.