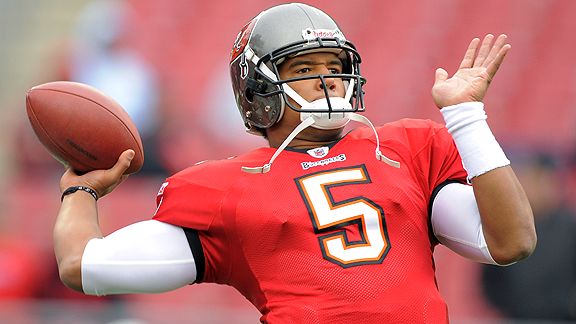 Scott A. Miller/US Presswire
Quarterback Josh Freeman is helping the Bucs prepare for the upcoming draft.LAKE BUENA VISTA, Fla. -- There's a new guy helping the Tampa Bay Buccaneers as they scout the prospects for this year's NFL draft.
It's quarterback Josh Freeman -- the same guy their drafted with their top pick. Yes, he's part franchise quarterback and part scout and he'll even tip his hand and tell you some of the guys he thinks the Bucs should take.
"I've been in watching film of different receivers with the offensive coordinator and the quarterback coach,'' Freeman said Friday. "You might not have the Michael Crabtree or the Darius Heyward-Bey, but it's a pretty talented receiver group coming out this year. There's Dez Bryant and I'm a big fan out Jordan Shipley out of Texas.''
Podcast: Bucs QB Josh Freeman
Tampa Bay Buccaneers QB Josh Freeman describes what it was like to take his first snaps in the NFL facing the Patriots in London and how the speed of the pro game is so different from college.
Listen

Along with "The Fabulous Sports Babe'' of ESPN Radio Tampa, I got to spend about 20 minutes chatting with Freeman on Friday afternoon as he attended "ESPN The Weekend'' and the re-branding of ESPN's Wide World of Sports. It was just a momentary break for Freeman, who soon will be back in Tampa, working out and scouting.
Yes, the Bucs really are asking Freeman for his opinions. That may sound a little bit out of the ordinary, but it's actually a very smart move. Freeman, after all, is the franchise quarterback and the most positive thing the Bucs have going for them at this moment. It only makes sense to hear his thoughts.
You might be a little surprised to hear that Freeman's first choice isn't to get a wide receiver. Freeman said, if the draft were today and he was in the shoes of general manager Mark Dominik, he would take Nebraska defensive tackle Ndamukong Suh.
"I would love to see Suh here,'' Freeman said.
The Bucs would be wise to listen to Freeman's thoughts on Suh because their quarterback knows the defensive tackle very well. They first became friends as teammates in a high-school all-star game, saw each other frequently as college foes and were hanging out together at the Super Bowl in Miami a few weeks ago.
"He basically lived in my backfield every time I played against Nebraska,'' said Freeman, who played at Kansas State. "The drive that that guy has is unbelievable. He's going to be a great teammate for whoever he goes to. The guy makes plays. He gets in the backfield and nobody can block him. They're trying to figure out what's going to help our team the most. If it's a receiver, it's a receiver. If it's get Suh, it's getting Suh. Anyway you look at it, I'm excited.''
Freeman should be excited. After a 3-13 season in which Freeman took over as the starter near the halfway point, the Bucs have 10 picks in this year's draft, including five in the top 99. If they can get Suh with the third overall pick, wide receiver could be a target area for one of their two second-round picks.
The Bucs already have made it clear they'll let last year's No. 1 wide receiver, Antonio Bryant, leave as a free agent.
"Antonio's a great player,'' Freeman said. "He makes a lot of plays. Obviously, the franchise -- the owners, GM and the coaches -- didn't feel like he'd be able to help us next year. The time I got to spend with Antonio Bryant, I treasured it and he made a lot of great plays for me. I wish him luck with the rest of his career even though he's not going to be in Tampa next season.''
Freeman praised Bryant, but that formula didn't always work in reverse. At one point last season, Bryant said his lack of production was due to playing with a rookie quarterback. That may be part of the reason why Bryant is on his way out of Tampa Bay.
You don't criticize the franchise and Freeman is the franchise here. Freeman also praised Michael Clayton, Maurice Stovall and Sammie Stroughter, but he made no secret of the fact the Bucs are looking for a No. 1 receiver in the draft or free agency.
"Looking at our roster right now, we've got a lot of guys that can make plays,'' Freeman said. "But we really don't have that burner, the guy you can just send him on a Go (route), throw it up 70 yards and let him run under it.''
The Bucs have that guy who can throw it up 70 yards in Freeman and they're going to try to get him every toy possible because he is the franchise. At very least, Freeman's going to have some say in who that guy is and, listening to him talk Friday, he's more of a student of the game than I ever realized. Freeman talked extensively about college players at all positions and sounded a little like a draftnik.
That's a good thing and talk about the draft wasn't the only positive thing coming from Freeman. Although team offseason workouts don't start for nearly another month, Tampa Bay fans will be happy to know that Freeman already has been working (not just scouting) for the last few weeks.
"You take a little break and after about two weeks, I was kind of like, "Man, I'm kind of tired of this. I'm ready to get back into the football mood,''' Freeman said. "I've started working out with our new quarterbacks coach Alex Van Pelt and our offensive coordinator (Greg Olson). I've been working. I can't wait for the second season.''
Freeman has seemed pretty poised ever since the Bucs drafted him. But I thought he seemed even more mature Friday. That may be because he already has seen so much. The Bucs fired offensive coordinator Jeff Jagodzinski just before the season and the team struggled under first-year coach Raheem Morris for much of the season.
But there was some hope later in the season, after Freeman started playing. He had some good games and led a victory over Super Bowl champion New Orleans. Freeman said the game slowed down for him as the season went on and he's looking forward to having an entire offseason working in Olson's offense.
He also said he's looking forward to Morris returning for his second season.
"It was kind of evident during the early part of the season, he was feeling his way around just like any rookie,'' Freeman said. "They did the stuff with the coordinators and you could see later in the season we were playing better and better. You could tell he's getting the grasp for it and he's getting it fast. I'm excited to see him coach this year.''
Funny, but that sounds a lot like the scouting report on the quarterback. Freeman went through a lot of the things rookie quarterbacks do. Late in the year, he did some really good things. You could tell he was grasping it and maybe he's right about Morris grasping it.
Maybe the Bucs are just a few pieces from turning the corner. Maybe, with Freeman helping as a scout, the Bucs will figure out exactly what to put next to their franchise.