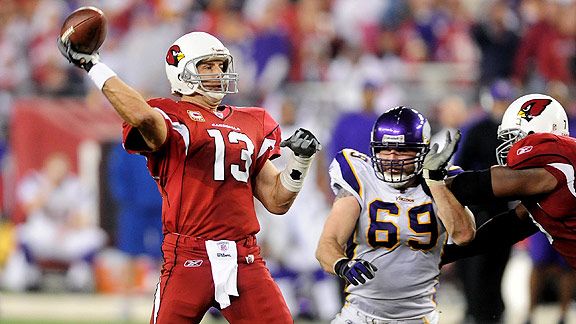 Mark J. Rebilas/US Presswire
Kurt Warner returned to the lineup and passed for 285 yards and three touchdowns thanks in large part to the protection he received from his offensive line.GLENDALE, Ariz. -- Do not anoint the New Orleans Saints or Minnesota Vikings quite yet.
The defending NFC champion Arizona Cardinals played better than anyone in the conference Sunday. And as they proved last season, timing can be everything.
Their 30-17 victory Sunday night over the previously 10-1 Vikings reestablished Arizona as a legitimate threat to make another Super Bowl run. It also demonstrated how much the Cardinals have grown since last December, when the Vikings dominated them here and Arizona limped into the playoffs.
"We're learning a lot about ourselves as a team, but if we can continue to play like we did tonight, I'm excited about where we can go," coach Ken Whisenhunt said.
The Cardinals outperformed the Vikings in every important dimension: offense, defense, special teams, coaching, intelligence and overall orneriness.
Their postseason swagger was back.
Cardinals defensive end Calais Campbell didn't even notice when Brett Favre tried to get in his face after Campbell rag-dolled the Vikings' quarterback during one of three Arizona sacks.
Defensive tackle Darnell Dockett slipped under Vikings guard Steve Hutchinson to bring down Adrian Peterson for a 5-yard loss in the third quarter (Peterson averaged 1.5 yards per attempt).
Jeremy Bridges, starting at left tackle for the first time in his career, typified the Cardinals' bravado. With a little help, Bridges improbably held the Vikings' Jared Allen without a sack. The Vikings might as well have had Jared from Subway trying to distract Kurt Warner with a foot-long Veggie Delite.
"Everybody to a man this week was talking about how great their defensive line was and how much pressure they could put on us," Whisenhunt said. "For us to be able to have no sacks tonight was really a tribute to our [offensive] line."
Bridges matched Allen syllable for syllable in a game-long exhibition of trash talking.
"It was one of the funnest games I've ever played in my life," Bridges said. "I'm hoarse right now. I ran my mouth the whole game."
The Cardinals' success in pass protection -- zero sacks in 32 pass attempts -- stood out as the single most surprising and pivotal development of the game. Right tackle Levi Brown, maligned ever since the Cardinals drafted him instead of Peterson, had a better game than the two-time Pro Bowl runner. But Bridges' success against Allen, who had two sacks during a 35-14 Vikings victory at Arizona last season, might have been more stunning.
"He started getting frustrated and he got a little corny with the things he was saying," Bridges said. "It got a little comical. He started to pout like a little baby, but that is to be expected. ... You have success and then you are not having it, you are going to be a little frustrated."
The Cardinals occasionally helped Bridges, leaving running back Tim Hightower to assist in protection. But there were other times when Bridges held up well enough for Warner to make big plays in the passing game. Warner, back in the lineup after missing six quarters because of a concussion, completed 22 of 32 passes for 285 yards and three touchdowns. Larry Fitzgerald and Anquan Boldin combined for 15 receptions and 241 yards.
The Vikings had previously recorded at least one sack in 23 consecutive regular-season games.
Bridges called this his "Shawshank Redemption" after the Washington Redskins released him when reducing their roster to 53 players.
"[Allen] said he didn't know my name," Bridges added. "I said, 'You'll know by the end of the game because they're going to say it a whole lot on ESPN.' "
Another surprise: The Cardinals averaged 8.3 yards per attempt on 10 carries from their one-back, double-tight end offense. They didn't have to spread the field or resort to gimmicks in generating yards on the ground. They finished with 25 rushes for 113 yards, with Hightower breaking a 32-yard run.
As impressive as the Cardinals were on offense, their defense and special teams were at least as good. Steve Breaston's 64-yard punt return was pivotal early. Arizona also pressured Favre into his fourth and fifth interceptions of the season. Strong safety Adrian Wilson probably should have had at least one more pick.
The Cardinals felt as though Favre was still taking chances this season, contrary to conventional wisdom. His receivers' ability to make plays on the football was the primary difference in Favre's revival, their thinking went.
Only a garbage-time touchdown pass while the Vikings trailed 30-10 prevented Favre from finishing with more interceptions than touchdowns.
The Cardinals needed a strong showing on defense after watching the Titans march 99 yards for the winning touchdown against them in Week 12. They got two sacks from Bertrand Berry and improved play from Alan Branch and the other nose tackles.
"We don't always get it right," Whisenhunt said, "but a lot of times when something happens to us, we respond in the correct way."
That's probably bad news for the San Francisco 49ers. They surprised the Cardinals in the season opener, 20-16, but Arizona can clinch its second consecutive NFC West title by beating the 49ers at Candlestick Park in the Monday night game next week.
Anyone who watched the Cardinals against Minnesota would have to like their chances -- in Week 14 and beyond.