This day has been a long time coming for the family of Darrent Williams.
Justice was their only chance for peace.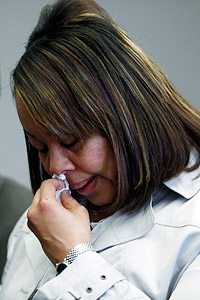 AP Photo/David Zalubowski
Rosalind Williams, mother of slain Denver Broncos cornerback Darrent Williams, fights back tears while speaking in Denver on Thursday after Willie Clark was found guilty of murder in the drive-by shooting of her son in 2007.After three years, it finally arrived in a Denver courtroom Thursday. Denver-area gang member Willie Clark was convicted of murder in the drive-by shooting death of Broncos cornerback Darrent Williams on Jan. 1, 2007.
Williams was a wildly popular player in Denver. His death polarized the city. It devastated his family. While in contact with family members Thursday, I got the sense the verdict has brought the closure the family has been searching for the past three years.
Clark's guilt will not bring back the smiling face of the tiny, but feisty defender everyone simply called "D. Will." But it does bring justice.
That's all the family has wanted.
I remember talking to family members after an emotional memorial service the night before Williams' unforgettable funeral in Forth Worth, Texas on a gray Saturday afternoon in January. Between coming down from the emotional public memorial and preparing for more pain that would come the next day, the family huddled around a computer trying to find information on the police's search for D. Will's killer.
It's all they had left.
This week, when speaking to Williams' family members as they prepared for the jury's verdict, they vowed to stay strong whether Clark was found guilty or innocent. Yet, they were hoping and praying for a guilty verdict.
The Williams' family got their justice Thursday. They've long deserved it.