Whew. For a minute there, we thought this whole Ilya Kovalchuk thing was going to be over.
Now, with the NHL and NHL Players' Association agreeing to extend Wednesday's deadline for accepting or rejecting the new 15-year, $100-million pact on the table to 5 p.m. ET on Friday, we can continue to wallow in rumor and innuendo, and their good friend speculation.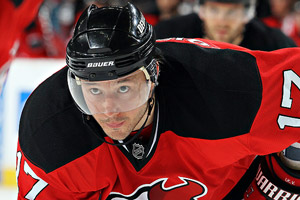 Jim McIsaac/Getty Images
Ilya Kovalchuk had 10 goals and 17 assists in 27 regular-season games last season for the Devils.
A cynic might suggest that "pushmi-pullyu" creature from "Dr. Doolittle" has hijacked the entire process. You know, the llama with two heads, pulling in opposite directions, going nowhere. Baaaa.
And one might legitimately wonder how five days of poring over the contract agreed to by Kovalchuk and agent Jay Grossman and submitted by the New Jersey Devils could produce not a result, but an extension.
Did the Devils write the contract in invisible ink? (They should have written the first 17-year, $102-million deal in something the NHL couldn't read, that's for sure. Instead, they wrote it in bologna.)
We imagine the full force of the NHL's legal department, ties askew, takeout boxes littering the furniture and floors at 1185 Avenue of the Americas, slowly turning the pages of the contract to see if something new reveals itself.
Like Where's Waldo.
But what about this instead?
What if it's something more than just pumping up the billable hours? What if it's actually something good and productive?
Let's assume that maybe, just maybe, the NHLPA and NHL are working together to end not just what has become a rather large fiasco for the Devils, one of the league's most respected franchises, but also bring to an end all discussion about these kinds of contracts. Maybe the two sides are working together to provide some clarity about exactly what constitutes circumvention of the collective bargaining agreement.
What a novel approach. A kink in the system with the two sides working to straighten it out.
Maybe this current Kovalchuk deal doesn't quite meet the NHL's standards, but maybe there's a way to salvage it, find a way to get Kovalchuk under contract and send the proper message to the other teams about what the league is prepared to accept under the current CBA when it comes to long-term contracts.
How long is too long?
How big a drop-off in salary is too big? (The new Kovalchuk deal goes from a high of $11.8 million in Year 7 to $1 million in Years 11, 12 and 13 before bouncing back up to $3 and $4 million in the final two years of the deal.)
How old is too old when a player signs this kind of deal? (Kovalchuk would be 42 at the end of this contract, which is two years shorter than the original deal.)
So, the deadline has been extended to Friday afternoon because maybe this is less about the Kovalchuk deal specifically and more about how to get out from under the shadow cast by these kinds of deals in general.
How refreshing would it be if, sometime before Friday afternoon, the NHL and NHLPA announced a new set of guidelines governing long-term deals. And just to clear the air and send the new season off on the right footing, how about having the NHL announce the outcome of the ongoing investigations into the contracts for Marc Savard, Roberto Luongo, Chris Pronger and Marian Hossa?
If they need to be tweaked based on whatever the two sides come up with, tweak them. If they're going to be rejected a la Kovalchuk Deal I, then reject them and let the teams fix them. If they're going to stand, then let them stand so those teams can move forward.
If we could rightfully expect that, not just a resolution to the Kovalchuk saga but the whole enchilada, it'll be worth two more days of tweets and blurbs and rumblings about this or that.
Won't it?