[Editor's note: Mr. Burnside will have more from his day with Patrick Kane early next week on ESPN.com, but here's a small sample of Friday's festivities.]
BUFFALO, N.Y. -- Whether it was the mist from Niagara Falls coating the Stanley Cup or iron workers cheering Patrick Kane from atop a city construction site or even Kane being stranded for a time high above downtown Buffalo in the bucket of a fire truck, this was as much a celebration of the region's personality as it was of a favored son's return home bearing the fruit of a championship.
In many ways, Kane and the city in which he was born are a perfect fit: scrappy and undersized, but a healthy dose of cockiness thrown in for good measure. For a city that craves its own championship, Kane's visit with the Stanley Cup on Friday was perhaps the next best thing -- a true homegrown winner who remains committed to his roots.
As Kane's cavalcade of family and media (both chronicling his time with the Stanley Cup) pulled up to the construction site of city's new Global Vascular Institute, workers cheered and clapped as they lined the railings several hundred feet above the ground. Soon, Kane traded in his familiar Chicago Blackhawks jersey for an ironworkers' shirt and hardhat emblazoned with his name and No. 88.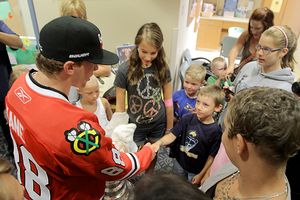 Roswell Park Cancer Institute
Patrick Kane visited Roswell Park Cancer Institute in Buffalo as part of his day with the Stanley Cup.
"Him bringing this Cup down to these guys here, that's a great thing," said longtime ironworker Terry Prendergast. "These guys appreciate it. You know what? He's a blue-collar kid and we're all just blue-collar guys from Local 6 Buffalo New York Ironworkers."
The boisterous Prendergast has known Kane's father, Patrick Sr., since both were youngsters in South Buffalo, and Prendergast coached the younger Kane in youth hockey when he was 8or 9 years old. Shortly after Kane scored the winning goal against the Philadelphia Flyers in overtime in Game 6 of the Stanley Cup finals this past June, Prendergast leaned over from the nearly completed fifth floor of the building and painted "Pat Kane Wins Stanley Cup" on a support beam.
He also jotted down Kane's childhood nickname, "Buzz." ... Well, sort of. Turns out the Z's were backward.
"That's because I was upside down writing it," Prendergast recalled with a great laugh as his co-workers posed for pictures with Kane and the Cup. "I'm upside down writing it and I thought, 'Man, that looks great.' I went over there [to the other side of the street], I looked up, I said. 'Oh my god, I got the Z's backwards.'"
Prendergast initially took some flak from his bosses for the celebratory message, but the beam has since taken on iconic status in the city (Mayor Byron Brown was part of the welcoming committee at the work site Friday), while he has assumed heroic status, at least within Local 6.
Worth it?
"Oh god, yes. Worth it for all these guys, all my buddies here, worth it for all of us," Prendergast said. "Glorious, glorious. Look how happy everybody is here. We did it for him really, not for us. We did it for him."
You could have spoken those words -- "Look at how happy everybody is here" -- at pretty much any point Friday and it would have been an accurate assessment of the impact of Kane's visit.
(OK, perhaps being stranded atop a fire truck bucket for half an hour or so while firefighters worked to correct a faulty hydraulic mechanism might not have made the cut. But even Kane quipped, "It was a little scary, but anything with this [the Cup] is unexpected. I'm just happy I'm out.")
The patients at the Roswell Park Cancer Institute certainly would have been in agreement that having both Kane and the Cup drop by for a visit qualified as a pretty special moment.
While cameras, photographers and reporters waited in the clinic's atrium, Kane and his family spent the better part of an hour visiting with patients ranging in age from youngsters to senior citizens. The emotional visit left Kane's three younger sisters and other family members emotionally raw, yet Kane seemed to find the experience uplifting.
"The biggest thing was a guy who was about 85, 86 years old. He probably had a week to live and his dying wish was to see the Stanley Cup because it was in the building," Kane said at the end of his day. "So, it takes you back a bit to see that you're part of something that means so much to people. We were in the room, the guy was cracking jokes. He was having a great time and there was his daughter who was just bawling her eyes out. It was tough."
Kane explained he had chosen to come to Roswell instead of holding a generic Cup event in Buffalo because many of those he wanted to reach wouldn't have been able to attend. The head of the clinic, Dr. Donald Trump, agreed not every person can find a comfort zone in this kind of atmosphere.
"He was humbled and he did appreciate the positive energy and the impact he was having on people," Trump said. "It says a lot about him to be able to interact the way he did. He touched a lot of sick kids, sick people and linked them to a highlight in his life."
Kane's day began with the Cup arriving at his parents' home in South Buffalo around 7:30 a.m. ET with neighbors gathering along the sidewalk and clapping in appreciation as he loaded the Cup into his vehicle.
The Kane caravan then made its way to the Cave of the Winds at Niagara Falls. There, Kane, his family and a collection of childhood friends mounted the hurricane deck with the Cup to brave the winds and water pouring down from what is known as the Bridal Veil. Actually, a new sign created by two Niagara Parks employees, introduced guests to the "HurriKane Deck." The handcrafted sign featured a likeness of Kane on one side and the Blackhawk logo on the other.
"We knew he was coming to the Falls and we wanted to do something special for him," explained Tom Proctor, one of the sign's makers. "We're all proud of him in Western New York and it was the least we could do."
Before heading to an evening party attended by some 500 friends and family members, Kane closed out the daytime itinerary with a spirited game of ball hockey at a local rink he frequented back in the day. As fate would have it, Kane was again on the winning side as his squad won the best-of-seven competition in six games. He and his teammates were rewarded with the Stanley Cup itself.
Naturally. Not that the folks of Buffalo would expect anything different from Kane.
[Editor's note: Mr. Burnside will have more from his day with Patrick Kane early next week on ESPN.com.]