After a sensational season in which he captured Olympic MVP honors and his first Vezina Trophy, Ryan Miller decided there was only one way to recharge his batteries this summer.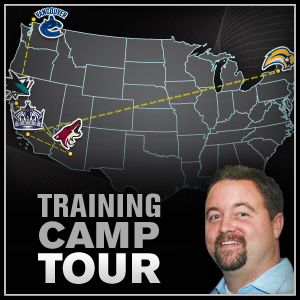 "I disappeared," the Buffalo Sabres' star netminder told ESPN.com this week. "I just tried to relax and lay low."
Most of his offseason was spent in Southern California instead of his native Michigan, as the Team USA lynchpin opted to get out of the limelight after a superb but draining season.
And yet, there was no hiding. Not after what he did for Team USA last February, backstopping the underdog club to an unexpected silver medal. Americans from all walks of life have been thanking Miller for what he did in Vancouver.
"A lot of people, actually, a lot of people I wouldn't expect from different parts of the country," Miller said. "It's amazing that hockey was able to reach that many households and impact that many people. It's great for the game. It's nice that people actually recognize me as a hockey player and associate me with something that was great for the USA program. It's nice to see people using hockey as a sense of pride and nationalism."
Personally, I won't soon forget the Canadian crowd at GM Place giving Miller a standing ovation during Team USA's silver-medal presentation after Canada's 3-2 overtime win. It was a heartwarming moment and a nod from knowledgeable hockey fans. He went 5-1 in the Olympic tournament with a miniscule 1.35 goals-against average. It was a breathtaking performance, which was capped by a Vezina Trophy in June. He didn't really take time to appreciate all of it until the offseason.
"I took the time, yeah," Miller said. "It's one of the best years I've had. It was exciting every time and I went to the rink all year long. Obviously we didn't reach our expectations with the Sabres and we came up a tad short at the Olympics, but it was pretty successful for Team USA in terms of putting ourselves in the best possible position to win. We came up a little short."
Miller's regular-season exploits in Buffalo easily earned him the Vezina. The 30-year-old established career bests in wins (41), goals-against average (2.22) and save percentage (.929). When he met with the media in Las Vegas after winning the Vezina, Miller fielded questions while barely taking his gaze away from the names on the trophy.
"That was a pretty big moment for me, just to be near the trophy and look at all the names on it. It sent me back a long ways," Miller said. "A lot of great goaltenders have been in this league. To be etched on there now is pretty amazing. I just hope I can get on a bigger and shinier one at some point."
But to Miller, that was last year. That's done now. The Vezina is shelved.
"You can't put it in the goal this season and have it help you stop pucks," he said of the trophy. "You have to reset."
And the one thing that didn't sit well with Miller was a first-round exit to Boston. The Sabres' goal this season?
"Stanley Cup," Miller said without hesitation. "You have to set the bar high. You can't just be happy trying to make it to the second or third round of the playoffs. We've got high expectations."
I doubt many people are going to pick the Sabres to win the Cup this season. Then again, very few people believed Team USA would win silver in Vancouver.