Let the countdown officially begin!
In five months and four days, Heinz Field will be a frozen tundra (literally) on Jan. 1, when the home of the Pittsburgh Steelers will host the Washington Capitals and Pittsburgh Penguins in the 2011 Winter Classic.
The Penguins' Sidney Crosby, Maxime Talbot and Pascal Dupuis and the Capitals' Mike Knuble and David Steckel came out to the NHL's annual summer news conference, and took part in a, um, shootout from field level (keep scrolling for pictures!).
"Our players love to participate in this grand celebration of our sport, our fans love to watch it, our broadcasters love to show it and our sponsors are pleased to support it," NHL commissioner Gary Bettman said in a statement Tuesday. "The Capitals and Penguins will write a new chapter in Pittsburgh sports history when the [Classic] comes to Heinz Field on New Year's Day."
The position of the rink will be a similar look to the first Winter Classic held in 2008 between the Pens and Sabres at Ralph Wilson Stadium in Buffalo, N.Y. The past two Classics were held in two storied baseball venues, Chicago's Wrigley Field in 2009 (Wings-Blackhawks) and Boston's Fenway Park in 2010 (Flyers-Bruins).
Said Sidney Crosby as quoted by the Pens' website: "It's nice to get out here and get a feel for it, and the set up of the rink. I think they have a week to put it all together, but it's home. It's nice to be home and playing that game. As teams, we are fortunate to play in them and get these opportunities. It's not your typical game. I think as a player you try to enjoy it all, take it all in and, most importantly, win it."
Crosby scored the shootout-winning goal for Pittsburgh in the 2008 Classic.
Will the latest Classic give us any insight to next season's Cup run? Well, Capitals fans may be interested to know this: The road teams from the past three Winter Classics (Pens, Wings, Flyers) have reached the Stanley Cup finals, all in losing efforts.
---
Here are more photos from Tuesday's festivities:
A view of where the rink will be inside the stadium: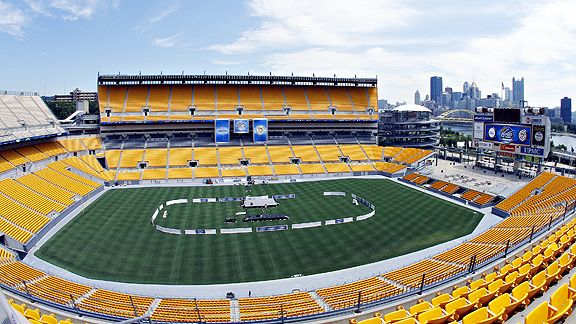 Justin K. Aller/Getty Images
Steckel and Crosby try to shoot a puck from the field through the uprights at Heinz Field. (Anyone thinking of those Larry Bird-Michael Jordan "Showdown" commercials right about now? "Nothing but net ...")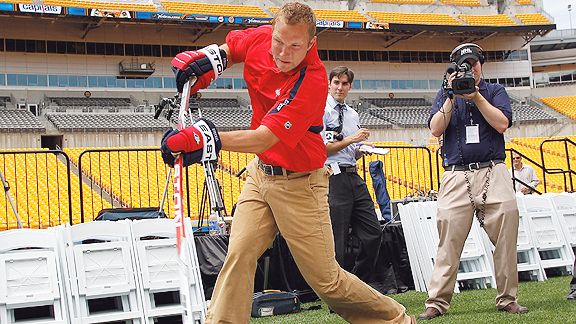 Gregory Shamus/NHLI/Getty Images
Crosby gives it a shot ...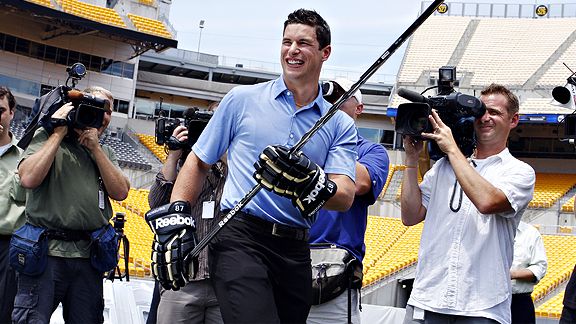 Justin K. Aller/Getty Images
Crosby and Knuble pose for the cameras. The NHL is also going with the old-school Caps and Pens logos for the game.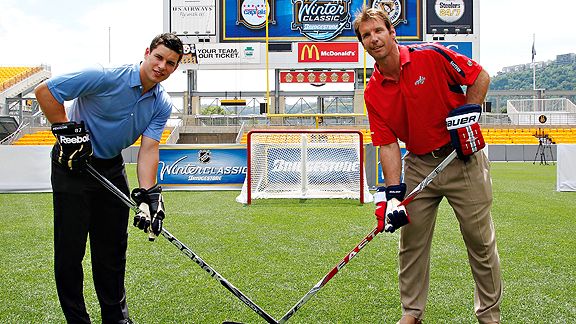 Gregory Shamus/NHLI/Getty Images
"Team picture" from the news conference at Heinz Field: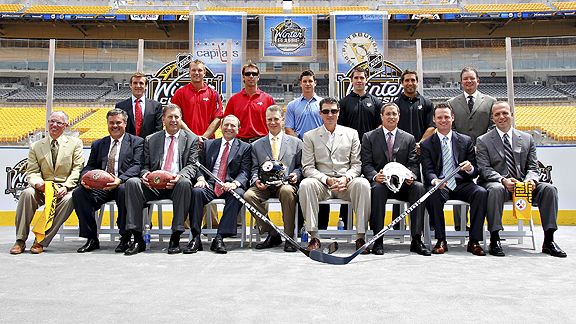 Gregory Shamus/Getty Images