NEWARK, N.J. -- Who stays, who goes?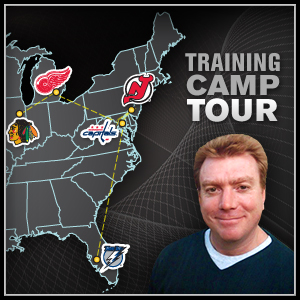 It has been the training camp mantra for as long as there's been ice on the pond and too many guys and not enough sticks.
But this fall in New Jersey, it's more like who can afford to stay and who is too expensive and must go?
In the wake of the Summer of Kovy, the New Jersey Devils are faced not only with finding the right mix of players with whom to break camp and start the season, but also working against a backdrop that sees the Devils needing to shed at least $3 million in salary to get under the $59.4 million cap.
So training camp in New Jersey is shot through with a whole lot more drama than in most of the other 29 camps.
Veteran netminder Martin Brodeur -- one of the players who doesn't have to worry about president and GM Lou Lamoriello tapping him on the shoulder and telling him he'd like to see him in his office -- likens the situation to the approach of the trade deadline: You know something's going to happen, you just don't when or to whom.
How this situation is different is that, for the most part, everyone in the room wants to be in New Jersey. And at some point, they're going to be told they're going to have to move on, not necessarily because they played poorly or didn't fit into the team's plans, but because the economics dictate they are the ones who must move themselves and their families to a new town and team.
"It's definitely interesting. I'm not in a position where I have to worry about it, but you see teammates and we all care about each other," Brodeur said. "I think everybody wants to be part of this team. That's the thing -- nobody wants to go. Everybody would like to be the guy to be able to stay, but you know eventually some guys will have to go and that's the nature of the game and it's something that's not a fun thing."
Look up and down the Devils' roster and you can identify the players who might be candidates to go, essentially to make room for Kovalchuk and his recently approved 15-year, $100 million deal.
There's forward Dainius Zubrus and the three years ($3.4 million annually) remaining on his deal.
Or captain Jamie Langenbrunner, who is in the last year of a deal that pays him $2.8 million and is coming off a disappointing conclusion to the 2009-10 season.
Or defenseman Bryce Salvador, who has two more years left at $2.9 million.
"It is different. Going in there and knowing that two guys, two important pieces of our team, aren't going to be there," Zach Parise said in a recent interview. "It's got to be in the back of everyone's mind -- who's going to be gone, who's going to be gone in a couple of weeks -- so it's a little different around the dressing room."
We got a chance to catch up with Salvador after Monday's scrimmage. Like everyone else, he's heard the list of names that keep popping up, names that could be sacrificed here in Newark. But for Salvador, a 34-year-old native of Brandon, Manitoba, the dynamics of training camp remain the same.
"You control what you can control. That's the way it's always been at camp. Obviously people understand things have to be done. I've been traded before," said Salvador, who was traded from St. Louis to New Jersey in 2008. "You've got to just go out there and do your job."
Now, he added, when people stop talking about you entirely or "when the articles say you're a bum or you're washed up and playing like you're 45 years old, those are the articles I worry about," Salvador said.
As for Kovalchuk, if the uncertainty that hangs over the team in these early days of training camp is bothersome, he doesn't show it, saying he is focused only on what he is able to accomplish on the ice.
"It's the coach's decision and Lou's decision," the talented winger said Monday. "We're all professionals and we just have to give the best that we can and he's going to decide who should stay and who should go."