EL SEGUNDO, Calif. -- When you see them on the ice together as a pairing, you wonder if you aren't watching the makings of one of the NHL's great defensive tandems for the 2010-11 season.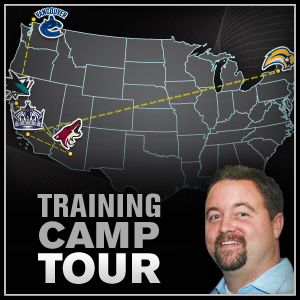 Free-agent newcomer Willie Mitchell was again skating alongside blueliner phenom Drew Doughty at Kings training camp Monday, a fit that makes so much sense.
"Mitchell and Doughty -- I really like the look," Kings coach Terry Murray said Monday between on-ice sessions at the team's practice facility. "A great veteran player in Mitchell, a defensive guy who's really a solid character person, is going to help push Doughty along."
Mitchell, the towering, shutdown D-man, plus Doughty, the offensive wizard and puck mover and ... voila! You have the Kings' top pairing.
"A perfect fit for a guy like Doughty," Kings GM Dean Lombardi told ESPN.com on Monday.
Lombardi's eyes rarely shifted away from the ice surface while he discussed his team with ESPN.com. His excitement for the Mitchell signing is unmistakable; so much so that, while he would never say it out loud, I'm convinced Lombardi would be more excited about signing Mitchell even if Ilya Kovalchuk had become a King this summer. Seriously.
But Mitchell's addition doesn't come without risk. The 33-year-old hasn't played a game since mid-January after Evgeni Malkin pushed him headfirst into the boards. The ensuing concussion problems ended the rearguard's season with the Canucks and even delayed his free-agent pursuit as his recovery went into the summer.
"There's always a risk, we certainly did our due diligence, but we felt what he could bring to the team outweighed the risk," said Lombardi, who greatly values the elements Mitchell brings, on and off the ice.
So far so good at camp for Mitchell.
"I feel real good, really good," Mitchell told ESPN.com. "It's been a long time. It's exciting. It's fun to get out there and do something you're so passionate about and you love so much. And second of all, you get motivated being around new people, some good young players. Just the change of scenery really motivates people."
His old team in Vancouver showed interest in retaining him; but after the Canucks added Keith Ballard and Dan Hamhuis earlier in the offseason, there really wasn't much room left in Vancouver. Mitchell confirmed Monday that Los Angeles, San Jose, Washington and Vancouver were the four teams seriously in the bidding for his services.
"It was a really tough decision. I really respected the fact Washington and San Jose brought me in. They didn't have to do that," said Mitchell. "They showed me around their cities. It was like a college recruiting trip."
In the end, he chose the Kings, who signed him to a two-year, $7 million deal on Aug. 25. I also suspect neither San Jose nor Washington was willing to go past one season on any deal.
"This is a good fit here," said Mitchell. "This is a good young team that's growing."
What impressed Lombardi this summer was how Mitchell handled free agency. When July 1 came and the money was being doled out on the first day of the open market, Mitchell and his agent quietly informed suitors they weren't willing to talk yet. Mitchell wanted to make sure he was 100 percent recovered before beginning to negotiate with teams.
"I don't know how many guys would do that because it could have been easy for a guy to say, 'There's a good chance I'll be healthy' and there's no question he would have had some bidding on him," said Lombardi. "But the way he did it, 'I've got to get healthy,' that's impressive."
Mitchell likely cost himself at least $1.5 million a year by skipping early July's free-agent bonanza, but he said he doesn't care.
"I wanted to go about it the right way," said Mitchell. "I didn't think it would be fair to me or fair to a team to go in there and sign with a team and maybe have a relapse. Then I'm not ready and a GM ties up money in a player and they're screwed. I thought that would be the best way to go about things and so far it's been correct. Everything has gone according to plan. I just can't wait for a game."
A game. It's been nine months since Mitchell played in a game. It's been a long recovery.
"It's tough to describe what it's like to go through that," said Mitchell. "It is a journey. You learn a lot about yourself."
There is no timetable for players who recover from serious head injuries. Mitchell is friends with Minnesota Twins first baseman Justin Morneau, who is currently still out with post-concussion issues.
"He's having a long journey with it," said Mitchell. "We talk all the time."
For Mitchell, the long road back will be complete Oct. 9, when the Kings open a regular season bursting with high expectations. In a twist of irony, the Kings open at Vancouver, Mitchell's old haunts.
"It's going to be great," said Mitchell. "By no means was it a bad departure from Vancouver. I had a great time there. I have a lot of great friends there in the city and on the team. And they've got a good hockey club, a great hockey club. ... But I won't lie, I want to win that game."
So much of the Kings' offseason has been about the one that got away in Kovalchuk. But if Mitchell stays healthy this season, revisionist history will suggest it was the summer Los Angeles found Doughty's perfect fit.