SAN JOSE, Calif. -- It was late August when Doug Wilson called Antero Niittymaki into his office for a meeting.
The San Jose Sharks GM had quite the piece of news for Niittymaki: He was close to signing fellow Finnish netminder Antti Niemi.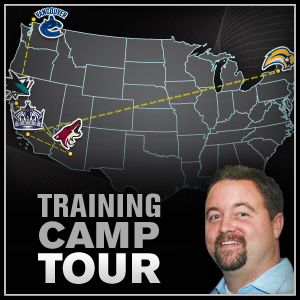 "I said, 'You know what? This has just become available. Obviously, I made a commitment to you and signed you to a two-year deal. I will only do this if you bless it,'" Wilson, sitting in that same office Thursday, recalled to ESPN.com. "And he was great about it. He said, 'This makes us a better team and you've got to do it.'"
And there, in a nutshell, is why there's reason to believe the goalie battle in San Jose won't turn into a distraction. For starters, Niittymaki appreciated the way Wilson included him in the process and didn't blindside him.
"It was a classy move by him," Niittymaki told ESPN.com on Thursday. "It was nice to give me a heads-up. It just shows that this is a first-class organization."
Niittymaki spent all of two months this summer as the unchallenged Sharks starter between his July 1 signing and Niemi's Sept. 2 acquisition. Many a goalie would have freaked out and had his agents jumping up and down Wilson's back. Not Niittymaki.
"It's part of the business," said Niittymaki, who fought for net time in his previous NHL stops in Tampa Bay and Philadelphia. "I'm not going to cry about it. You never know what's going to happen. You just have to deal with it. But it's good that it's a Finn, it really is. It makes it easier for both of us."
They're both Finns -- Niemi from Vantaa and Niittymaki from Turku. They didn't know each other, but have spent the past two weeks getting acquainted. Their dressing room stalls are side by side at the Sharks' practice facility.
"We're sitting next to each other and we're able to speak Finnish. It helps," Niemi told ESPN.com on Thursday.
"We've gotten to know each other a little bit," added Niittymaki. "He's a great guy like all the Finns are. I'm sure it's going to be fine. It's going to be a healthy competition."
As Chicago Blackhawks fans found out last season while he won them over en route to a Cup championship, Niemi is a man of few words. But his eyes widened when asked about the battle for net time and whether it would be a good vibe with both goalies pushing each other.
"I'm confident that's what will happen," Niemi said. "I think it's going to be a positive thing for both of us."
Things have settled down for Niemi after a drama-filled offseason. He was celebrating a Stanley Cup championship only to see Chicago dump him after his arbitration hearing. He had to scramble to find a new NHL job.
The 27-year-old needed a bit of time to digest it all.
"It took awhile, but I'm really happy to be here right now and excited about the season," Niemi said.
So, the question on every fantasy player's mind is how the playing time will be parceled out. Don't ask the head coach.
"The honest response is, I don't know," Todd McLellan told ESPN.com on Thursday. "I've told that to media people and they look at me like I'm from Mars. But we are figuring out what we have, how they fit in, how they respond in certain situations against certain opponents and that's going to take some time. The natural thought outside our locker room is alternate for a while and see what happens, but if somebody gets a hot hand, we might run with him for a while. If alternating is the thing we need to do, then we will."
Bottom line: Nothing is decided yet. Both goalies are new to the Sharks, so both will need time to adjust.
In the meantime, what about Thomas Greiss? The poor fellow from Germany was the backup here last season to Evgeni Nabokov, going 7-4-1 with a .911 save percentage and 2.69 goals-against average. Where does he fit in all of this? He would need to clear waivers to be sent down to the AHL, where, by the way, Alex Stalock won 39 games last season (the Sharks are high on him, too).
"We've managed three goalies before," said Wilson. "People forget we had Nabber and Kipper [Miikka Kiprusoff] and Vesa Toskala. You can manage it."
Because the Sharks begin the regular season in Europe, NHL rules allow them to carry an extra roster player until they return home. So that affords them extra time to carry three goalies.
Who knows what Wilson really has under his sleeve for Greiss (whether or not it's a trade), but after spending time here Thursday at Sharks camp, it seems clear the Sharks GM does not have a goaltender controversy on his hands. Niittymaki and Niemi want to make this thing work.
"What we like is that these are not entitled people," said Wilson. "They're used to battling for spots and competing. That's something we like all the way through our team."