DETROIT -- Red Wings coach Mike Babcock jokingly refers to it as "Hudler's European Vacation" -- "it" being Jiri Hudler's one-year experiment with Moscow Dynamo of the Kontinental Hockey League.
As he has steadfastly done since returning to the Red Wings this offseason, Hudler insisted he made the choice to leave the Wings on his own volition and has no regrets about his season in Moscow.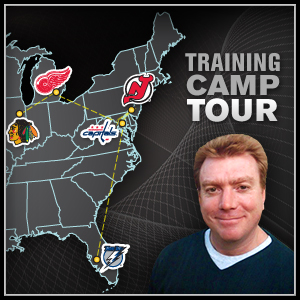 "I've said it a hundred times, same question over and over," he said in an interview Friday morning. "But I'm going to say the same thing again: there's no regrets. I made a decision, it was me, nobody made it for me."
Perhaps it's not so important that Hudler walked away from a team that had gone to back-to-back Stanley Cup finals, winning it all in 2008, but in finding out what he brings back to the table now that he's returned.
The expectations from coach Mike Babcock and GM Ken Holland, who signed Hudler to a two-year deal worth $2.875 million annually, are higher than ever. On a team looking to rejoin the Stanley Cup fray, Hudler's contributions cannot be understated.
"He's so good on the power play," Babcock said. "He makes the whole power play run by himself."
The offensive parts of Hudler's game have been on display throughout his evolution as a player. He had 14 playoff points the year the Wings won the Cup in 2008 and followed that with 23 regular-season goals and 57 points in 2008-09. In Moscow, he had 19 goals and 54 points in 54 games before the franchise folded at the end of last season.
"He provides offense," Holland said. "He's got great hockey sense. He's got great hands."
But what is most enticing for the Wings is that Hudler seemed to grow into a more significant role while in Russia. "I was in a different position there, played 20 minutes a night, so it was kind of nice," Hudler said.
In short, he was asked to be a leader and go-to guy in Russia. Now he'll find out whether he can be that kind of player in Detroit.
"Huds is a competitor. He wants to be important," Holland said.
Were there some hard feelings when Hudler left after having first elected to go to salary arbitration in the summer of 2009 before signing with the KHL? Perhaps. But if those feelings existed, they seem to have been put to rest upon his return, such is the measure of Hudler's upbeat personality and his potential to help the franchise.
"They treated me really, really good in Moscow, the organization, but I'm happy to back. I'm so thrilled to be around these guys again," Hudler said. "It's like I never left -- just fit right in in the locker room. All the same buddies. They're making fun of me, obviously ... there's the jokes going around. But it's a great feeling."
So, what do the guys say? "It's a secret. I can't tell," Hudler said with a grin.
One player happy to see the 26-year-old Hudler return is linemate Daniel Cleary, who, along with Mike Modano, will make up what has the potential to be the most potent third line in the NHL this season.
"Huds is going to be great, he's a great player," Cleary said.
A native of Olomouc, Czech Republic, Hudler spent the summer working out in California. He also watched the NHL playoffs on television, something a little disconcerting given that he's used to participating, not being a passive observer.
What are his expectations?
"I don't know. It's a tough question," Hudler said. "Obviously, I'm a year older. That should help with a lot of stuff. I'm just looking forward to this season, playing with the great players, play for this team. I'm feeling pretty good about this team."