VANCOUVER, British Columbia -- No matter how you spin things in these parts, almost every conversation about the Vancouver Canucks gravitates toward Roberto Luongo.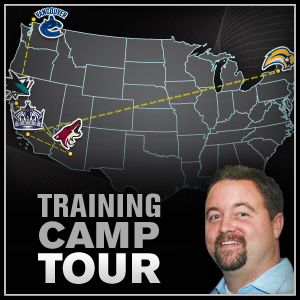 His $64 million, 12-year contract kicks in this fall.
He has a new goalie coach.
His workload is slated to decrease a tad with the arrival of young goalie Cory Schneider.
He dropped the captain's "C."
And he dropped 8 pounds, which was noticeable when he met with ESPN.com for an interview after practice Friday.
Somehow, win or lose, it always seems to be about Luongo with this team.
"Well, he's a star player and he's a goaltender," Canucks GM Mike Gillis told ESPN.com on Friday. "People have really high expectations for him, and they don't match his expectations of himself. We're doing our best to surround him with the most complementary players that we can to take the burden off him to be the guy that has to win the game for us. When he plays well, we win. We know that."
Luongo's detractors will tell you he wasn't very good in back-to-back second-round losses to the Chicago Blackhawks in successive springs. His backers will tell you he was in net when Team Canada won perhaps the most pressure-packed hockey game in the modern era this past February at the 2010 Olympics in this very city.
Somewhere in between probably lies the truth: a great goalie with gold medals at both the men's World Championship and the Olympics, but no NHL championship.
In a season in which the Canucks are being hyped up as serious Stanley Cup contenders, Luongo will be a popular topic all year.
"I know there's a lot of doubters out there, but I don't need to prove it," Luongo told ESPN.com. "I've done it my whole career. I've been successful at every level. I don't think there's a bigger stage in the world than last February. Unfortunately, it hasn't happened in the NHL yet, but we've got a great window of opportunity here with these guys and we've got a few years here to make something great happen."
He ended last postseason with a 3.22 goals-against average and an .895 save percentage. An injury-depleted blue-line corps in front of him had something to do with that, but he still didn't seem quite right against Los Angeles and Chicago in the playoffs. To his credit, he didn't stick his head in the sand this summer when the Canucks' front office approached him about replacing part-time goalie coach Ian Clark with a full-time goalie coach in Roland Melanson.
Like pitchers and pitching coaches, the relationship between goalies and goalie coaches is symbiotic, and it's a highly sensitive area for front offices to wade into. But Gillis hasn't been shy to make bold decisions in his time here, and he believed the time was right.
"We made a decision," Gillis said. "Roberto understood what we felt we needed to become a better team. He's the consummate team guy. He understood we would do whatever was necessary to become a better team. That meant having a full-time goalie coach here, for him and for Cory."
Luongo seems to have approached it with an open mind.
"It's been a while since I had a new goalie coach," Luongo said. "Rollie is a great guy and obviously he knows what he's talking about. We're trying to build a relationship and we're off to a good start. Hopefully the more time we spent together, the better it will be. It's nice that he'll be here all year round."
The two haven't wasted time. Under Melanson's tutelage, Luongo is changing a few aspects of his technical game. "A couple of adjustments, nothing crazy," Luongo said.
The most noteworthy is the desire to stay deeper in his net and not get caught too far out at the top of the crease. Too often in this past spring's playoffs, the opposition seemed to have the back door open for an easy goal on rebounds or scramble plays.
"I'm trying to stay at three-quarters of the crease instead of all the way out, be in good position for recoveries," Luongo said. "Rollie watched a lot of video [of me] this summer, and that's how he always taught his goalies. I'm a big guy, so you want to maximize your size."
Off the ice, Luongo will no longer wear the "C." It's a subject that consumed Vancouver fans and media all offseason. Now everyone can turn the page.
"It was a lot of little things that over the course of the year add up," Luongo said in explaining his decision. "We're in a situation now where I think we got a good shot at it. I just want my focus to be on goaltending. I don't want to be worried about other things. Not that it did during games last year, but maybe it did subconsciously in the back of my mind. I just want to give my full attention to stopping the puck."