Another day, another challenge for the NHL's head disciplinarian Colin Campbell.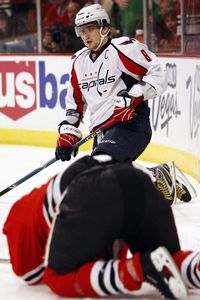 AP Photo/Nam Y. Huh
Alex Ovechkin received a game misconduct for boarding with 7:44 left in the first period of Sunday's game against the Blackhawks.
Fresh from his perplexing decision not to suspend Pittsburgh's Matt Cooke for the forward's potentially season-ending hit on Boston's Marc Savard, Campbell will now have to deal with another controversial hit by Washington captain -- and superstar -- Alex Ovechkin.
Here's a suggestion (and we know how much Campbell enjoys suggestions from the peanut gallery): Do nothing, again.
Only this time, Campbell will completely get it right if he simply lets Sunday's call stand -- Ovechkin was ejected in the first period of a key game against Chicago after pushing Blackhawks defenseman Brian Campbell into the boards behind the Chicago net.
Initially, it appeared as though Campbell was merely stunned (Brian, not Colin). Then, he didn't return the game. Finally, late Sunday, the news came that the NHL's third highest-paid defenseman could be lost for the season with a broken clavicle and broken ribs. While difficult for the Blackhawks, who are considered a top candidate to win their first Stanley Cup since 1961, Campbell's injury does not change our view about how the league should view the incident.
Ovechkin was tossed for the third time this season, assessed a five-minute major for boarding and a 10-minute misconduct and game misconduct. We understand the call -- we could have lived with a five-minute major (there is no double-minor for boarding, as we suggested earlier) -- but as for requiring further action, we don't think so.
There was much discussion earlier this season on Nov. 30, when Ovechkin caught Carolina's Tim Gleason with a knee-on-knee hit a week after being ejected for ramming Buffalo's Patrick Kaleta. A day later, Ovechkin was handed a two-game suspension by Campbell.
There will no doubt be calls for Ovechkin to be made an example of following Sunday's hit on Brian Campbell. You know ... "He's a repeat offender" and "Make an example of him" ... that kind of stuff. The kind of stuff that should have factored into Colin Campbell's ruling on Cooke.
We often criticize the NHL's curious method of dispensing supplementary discipline because it is so, well, curious and disjointed and often downright laughable. That flawed process was once again thrown into the spotlight last week with the contentious Cooke hit and NHL general managers' subsequent move to introduce a new rule to protect players from blindside hits to the head.
The Ovechkin hit, though, has nothing to do with any of that. Did he deserve a penalty? Sure. But was it reckless? No. Was it predatory or intended to injure? No.
And so, this Ovechkin incident should pass -- unlike the Cooke hit, which went unpunished -- because it is the right thing to do.