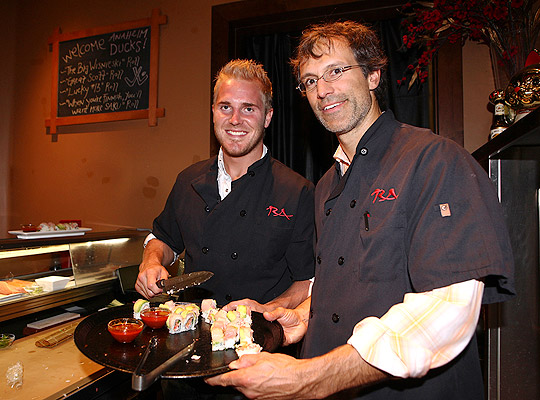 Courtesy of Anaheim Ducks
You know you've made it in the NHL when you get a sushi roll named after you.
Yes, Anaheim Ducks defenseman James Wisniewski will be added to a local restaurant's menu after his "The Big Wisniewski" sushi roll won out in a contest against teammates Scott Niedermayer (pictured above, right, with Wisniewski), Saku Koivu and Mike Brown.
If you want to try out "The Big Wisniewski" -- a combo of spicy yellowtail, crab mix, jalapeno and cilantro rolled and topped with sliced yellowtail, avocado and sriracha and served with chili ponzu sauce -- you have to live in SoCal. RA Sushi Bar locations in Tustin, Huntington Beach, Chino Hills and Corona will serve the special Oct. 9-Nov. 6, and $2 from each sale will benefit the Anaheim Ducks Foundation.