MIAMI GARDENS, Fla. -- Derek Carr got reacquainted with a pair of buddies on prime-time national television at Hard Rock Stadium. And the Oakland Raiders are better for it.
On this end of South Beach, Carr's deep passing game.
On the other side of the world-famous party strip, Marshawn Lynch, back after serving a one-game suspension for making contact with an official.
And as much as you could make the chicken-and-the-egg argument for each, it was Lynch's presence and pounding attack that set up Carr nicely. Just as it had been planned this offseason, when Lynch was acquired in a trade from the Seattle Seahawks after he took a year off in retirement.
The result was a 27-24 victory over the Miami Dolphins that improved Oakland's record to 4-5 and moved them into second place in the AFC West, behind the 6-3 Kansas City Chiefs.
"Coach wanted to get our run game going to help the pass attack, the play-action and all that kind of stuff, which it did," said Carr, who passed for 300 yards while completing 21 of 29 throws, with a touchdown and an interception. In fact, it was the second time in his four-year career he had thrown for at least 300 yards in three straight games.
"My goal is to complete them all -- I'm mad at myself when I don't -- but if those are the mistakes, we're going to be OK."
But about those deep shots.
Carr, who has looked uncomfortable in the pocket this season waiting for plays to develop downfield, completed a career high-tying 11 of 16 passes thrown more than 10 yards, going for 250 yards and a touchdown, with that interception, too. This after entering the game completing less than 45 percent of such passes on the season, with a 5-for-11 rate and two picks on such passes in last week's loss at the Buffalo Bills.
Then there was Lynch, who rejoined the team Tuesday night at the Ritz Carlton in Sarasota, the Raiders' home base for the week as they practiced at the IMG Academy in nearby Bradenton. He had a tough go of it early against the Dolphins' nasty front seven, spearheaded by Ndamukong Suh. But to the Raiders' credit, they did not abandon the run. And it paid off.
Because at halftime, Lynch had just 8 yards in five carries, and the Raiders led 13-9.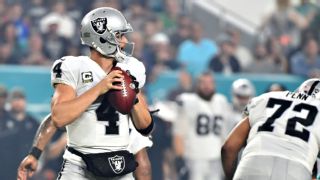 "We wanted to run the ball," Raiders coach Jack Del Rio said. "We wanted to be able to run the ball. Still not quite what we'd like to have, but it was good to see some moments where it came together the way we're wanting to see it done."
Like on his third carry of the third quarter, after squirting through for gains of 3 and 14 yards, Lynch broke free up the middle on a vintage Beast Mode run. Twenty-two yards later, Lynch had his first TD since Week 5.
His celebration? Gentlemanly handshakes with his offensive line.
Lynch broke it out again with less than five minutes to go in the game when he pounded it in from 3 yards out, working as the closer the Raiders wanted to give them a 27-16 lead after a six-play, 87-yard drive.
Of course, Lynch, who finished with 57 yards on 14 carries, was long gone from the locker room by the time the media entered -- Raiders radio announcer Greg Papa said Lynch had already headed to the tunnel before the clock struck zero -- so he could not offer his take.
No matter, Carr was effusive in his praise.
"A lot more jokes, a lot more him talking trash to me, which is good. Keeps me on my toes," Carr said of Lynch and his return.
"To have him back, he's our brother. We love him. We love playing with him, we love practicing with him. He's just a good teammate. He really is. Fun to be around. ... [But] the more that we can run the ball, the more stress taken off me. And I'm all for that."
Plus, it allows him to throw the ball deep again, right?