BOSTON -- Figure skating costumes can be elaborate. But they are nothing compared to the large tattoo of St. Michael that stretches across pairs skater John Coughlin's entire back. Coughlin got the tattoo in memory of his mother, Stacy, who died in 2010.
"It's the saint who my mother prayed to a lot to get my dad home safely because he was a policeman," Coughlin said. "I just wanted something to remember my mom by because he's the saint for policeman."
Stacy had reason to pray for the safety of her husband, Michael, who was a policeman in Kansas City for 30 years. The summer she was pregnant with John, Michael was shot in the arm and leg during a shootout following an armed robbery. Michael survived and remained on the force. He still works in the police reserves and teaches at the local academy.
Coughlin said the tattoo took 10 hours and three sessions to complete.
Stacy passed away from Ehlers–Danlos syndrome, a connective tissue disease that cannot be cured. "It's something that's relatively obscure in the national eye considering how many people it affects," Coughlin said. "It's something I would like to raise awareness of."
Perhaps he should consider skating shirtless. "I don't know if someone has ever skated topless," he said with a smile. "It might hurt our component mark a little."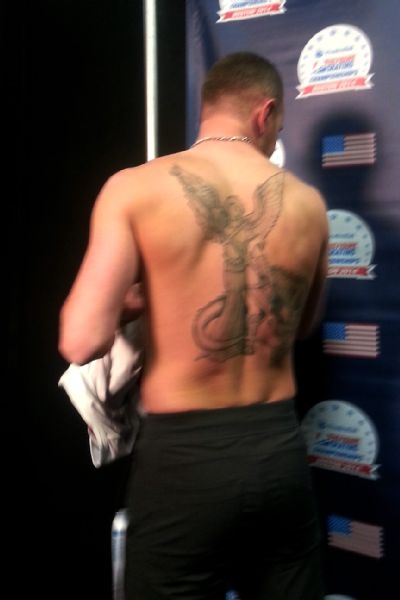 Courtesy of Jim Caple
John Coughlin says his St. Michael tattoo is in honor of his late mother, who frequently prayed to the saint.