IRVINE, Calif. -- If you're going to walk the walk in lime green rhinestone-covered high-tops, shoes that have your name on the sole and "JEAH" on both heels, you better be able to back it up.
And that's just what American Ryan Lochte did this week, winning six gold medals in the Pan Pacific Championships, allowing him plenty of time to stand atop the medal stand and show his self-designed neon kicks to the world.
Lochte took one more bow Saturday night, swimming the 200-meter individual medley in a blistering 1:54.43, a mere .33 off his suit-aided world record at last year's World Championships. It was the perfect end to a near-perfect week for Lochte, who won all six events he entered and was named the meet's top swimmer, and did so in Pan Pac-record fashion.
[+] Enlarge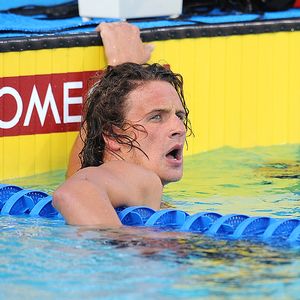 ROBYN BECK/AFP/Getty Images
Ryan Lochte won six gold medals this past week at the Pan Pacs.
"It's just a stepping stone for the next two years," he said. "I'm just getting ready."
And what a two years it will be.
Lochte's performance here and at the nationals this month leaves almost no doubt that, for the time being, it his he -- not Michael Phelps -- who sits atop the throne as swimming's top dog. That means far less now than it will in London in 2012, especially with Phelps admitting all week he is far from peak form. But what a showdown it should be between the two giants of American swimming at next year's World Championships in Shanghai and the 2012 Olympics.
The free-spirited Lochte has the potential to be the Agassi to the methodical Phelps' Sampras.
"We're going to have a good time going head to head for the next couple years," Lochte said.
Halfway through Saturday night's 200 IM, an event Phelps elected not to swim in, Lochte was right at world-record pace. At 150 meters, he was .41 seconds behind. After touching the final wall and realizing how close he was to becoming the first person to break a world record since the ban of the speed suits, he slapped the water in disgust.
"I knew I was going to go fast, but I didn't know how fast I was," he said. "But once I figured it out, I thought, 'Man, if I just would have done one or two more dolphin kicks, I would have had it.'"
After Saturday night's race, Lochte walked to the grandstand and threw his swim caps and goggles to the sellout crowd. He then walked into the media interview area, where he pumped his fist and yelled, "IT'S OVER!"
So, what's next?
Vegas, of course.
"Man, if we didn't have code, I'd be out on my way there right now," he said. "But we have to stay on code, so I won't leave until tomorrow."