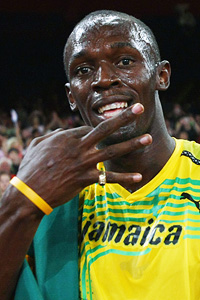 Alexander Hassenstein/Bongarts/Getty Images
That's three gold medals and three world records for Usain Bolt at the Beijing Olympics.From ESPN reporter Jeremy Schaap:
Hard to believe that just five days after Michael Phelps won his eighth gold medal, he's already been eclipsed as the hero of these Games.
Well, not eclipsed, not exactly, but perhaps equaled.
On Friday night Beijing time, Usain Bolt powered Jamaica to gold in the men's 400-meter relay, and not just gold, but another world record, shattering the mark shared by two American relay teams by 0.3 seconds.
Bolt has set three world records in three events -- in the 100, breaking his own record by .03 seconds, even as he celebrated before the finish line; in the 200, breaking Michael Johnson's durable record; and now this.
IOC president Jacques Rogge was upset with the way Bolt celebrated his 200 victory. Rogge should instead thank him, no, kneel before him -- for making the second week of these Games as memorable as the first.
Bolt, as you'd expect, is giving Michael Phelps a run -- for his Olympic pre-eminence.