From ESPN.com senior writer Elizabeth Merrill: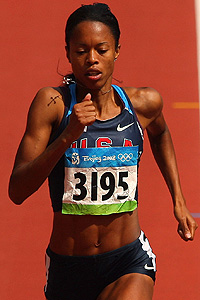 Stu Forster/Getty Images
Muna Lee advanced past the first round of Tuesday's 200 heats.The conversation here in the Bird's Nest is that 2008 is shaping up to be a down year for the United States sprinters.
In past years, Marion Jones was a catalyst for the Americans' dominance. But the last time we checked, she was finishing up a six-month sentence at a federal prison facility in Texas for lying to investigators about her steroid use and her involvement in a check-fraud scheme.
Has the Jones scandal cast a pall on the Americans in Beijing?
Muna Lee is trying to reverse the United States' early misfortunes.
Lee ran the fastest time in the 200 meters Tuesday morning, coming in at 22.71 seconds. She was .01 ahead of France's Muriel Hurtis-Houairi.
Three Americans made it to Round 2 -- Lee, Allyson Felix and Marshevet Hooker. Jamaica also has three qualifiers. The United States was shut out of medals in the 100 over the weekend, as the Jamaican women swept. It was the first time the U.S. was denied a medal in the event since 1976.
"I'm a little sluggish," Lee said, "but I'm just getting into the flow like everyone else."