It's like Mother Nature said, "We won't spoil the party on Day 1, but I ain't holding back on Day 2."
Rain took up a large chunk of the Olympic tennis event Sunday, leaving organizers with some catching up to do in an already packed week at Wimbledon.
But with the roof over Centre Court and a few windows of clear weather opening, a handful of matches were completed, including one involving an agitated, at times, Novak Djokovic.
Here are five takeaways from Day 2:
Djokovic not too unconvincing
Before the Olympics, Roger Federer said that a bad patch in the best-of-three format could cost players. He himself had a dodgy spell against Alejandro Falla, the tricky Colombian who almost upset Federer at Wimbledon two years ago, but scraped through 6-3 in the third set Saturday.
Reason to be alarmed? Perhaps -- although Federer battled his way to the Wimbledon title earlier in July.
Djokovic joined Federer in dropping a set in the first round, defeating Fabio Fognini 6-7 (7), 6-2, 6-2. Even if the expressive Italian packs a hefty forehand and has a flair for the dramatic, he presents less danger on fast surfaces than Falla. Djokovic losing a set was thus more of a surprise.
Djokovic was comfortable at 5-3 in the first but couldn't serve it out, leading to a period when his body language worsened.
Were the courts too slippery? Was he annoyed he was on Court 1 and not Centre? Or was he just ticked at the level of his play? Djokovic committed 17 unforced errors in the first.
He recovered, as was expected, making one unforced error in the third.
The consistency will have to be there as the opponents become more difficult.
Top marks for Murray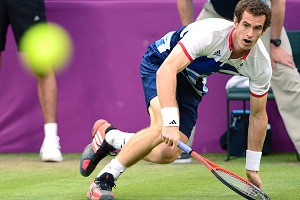 Martin Bernetti/AFP/GettyImages
Federer was the last person Andy Murray wanted to see on Centre Court. But thankfully for the Scot, he wasn't playing the same man who beat him in the Wimbledon final and elicited those famous tears exactly three weeks ago. No, Federer was in his backyard in his non-tennis gear alongside Mirka giving encouragement to Murray's opponent, Swiss No. 2 Stanislas Wawrinka.
Murray wasn't spooked by Fed's presence, downing the ever-frustrating Wawrinka 6-3, 6-3 in a match not as routine as the score indicated.
In the first game alone, Murray fell and grabbed his hip (well, that's not unusual) and was put off by a blinking scoreboard. He also fended off a break point. The first three games lasted a lengthy 25 minutes.
But Murray's serve picked up. He was troubled in only one service game from early in the first set to the end of the match and didn't get broken. Wawrinka's serve remained mediocre.
Serving at 44 percent won't cut it against Murray.
Will Federer and Murray see each other on Centre Court next Sunday?
Julia powers past Aga
Although the men's runner-up at Wimbledon beat a tricky opponent, the losing women's finalist, Agnieszka Radwanska, wasn't as fortunate.
Radwanska, who commendably extended Serena Williams to three sets in her first Grand Slam final, was similarly out-powered in the end by the free-swinging Julia Goerges 7-5, 6-7 (5), 6-4.
Radwanska hadn't played since Wimbledon while Goerges competed in two tournaments, and the German indeed looked sharper. The game plan against Radwanska is to hit through the world No. 2, but as her opponents will attest, that's easier said than actually done.
Goerges, though, successfully attacked Radwanska's tame second serve, especially in the first set, and her lethal forehand forced the Pole to scramble -- more than usual. Playing under the roof helped Goerges' serve; she blasted a Serena-like 20 aces.
Just as impressive, Goerges, who hasn't been able to match last year's form, didn't wilt when Radwanska led by a break in the third. The turning point in the decider came when Goerges saved a break point in a marathon ninth game with a lunging forehand drop volley.
The other Radwanska, Urszula, is still in the draw -- for now. Williams is her second-round opponent.
Maria and her fan club
The omens weren't good for Maria Sharapova as she walked on court in her red-and-white Russia top. Agnieszka Radwanska and Wawrinka were flag-bearers, too, and they'd lost in the previous two matches on Centre Court.
When Sharapova was broken by Shahar Peer in the opening game, the possibility of a hat trick increased ever so slightly. But that was as tough as it got for Sharapova, who cruised in her Olympic debut 6-2, 6-0 with celeb Chelsea Handler in her box.
Sharapova owned a 6-0 record against Peer prior to Sunday, so she wouldn't have felt threatened by the gritty Israeli. With Sharapova clicking in the second set, Peer won 13 points.
Peer became the first singles player to suffer a bagel at this year's tournament, which must have taken the shine off playing on the most famous tennis court in the world.
English summer at its worst
Those who follow Wimbledon know summer rain in London is commonplace. Given a respite the past few years, this year's edition was wet, wet and wet. But the hordes that arrived for the Olympics were greeted with mostly sunny skies and temperatures hovering around 80 degrees, or more, last week.
The fine weather didn't turn up Sunday -- and might not return. Monday's high is a chilly 65 degrees, and the forecast shows possible showers in five of the next seven days. With the tournament truncated to one week instead of the usual two at a Slam, fitting in all the matches could become problematic.
In an embarrassing moment for the All England Club, Murray said the roof was leaking Sunday.
Wear and tear already?