He might look like a mellow dude with his long blond locks and laid-back demeanor, but quarterback Nick Foles frets about things just like the typical Arizona fan. He's well aware of the monstrous what-might-have-been that lingers over the Wildcats season because of two peculiar deflected passes.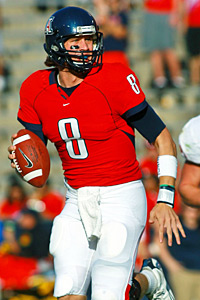 Chris Morrison/US Presswire
Arizona quarterback Nick Foles hopes the Wildcats redeem themselves against Oregon this Saturday.
There's the ball that bounced off receiver Delashaun Dean's foot that Washington intercepted -- at least that's what the officials ultimately ruled -- and returned in the waning moments for a game-winning touchdown.
And there's the pass that deflected off a California defender last week and back to Foles, who decided -- ill-advisedly, according to the rule book -- that he got a do-over and tried to re-pass.
Instead of a go-ahead field goal attempt from the Bears 25-yard line with less than two minutes left in the game, the Wildcats ended up failing on a fourth-and-long from the 39 after a spot-of-the-foul penalty.
One play does not a game make, but a strong case can be made for those two being as important as any two plays in the Pac-10 this year. Without them, Arizona might be undefeated in the conference, ranked in the top-10 and the Rose Bowl frontrunner heading into the season's final stretch.
"It's just crazy," Foles said. "It's one of those things that you wouldn't think would happen for 100 years but it's happened to our team two times in a year and I was part of it both times. It's just one of those things you've got to learn from. It's tough to lose games like that but you can't beat yourself up over it."
Ah, but one gets a sense that Foles has beaten himself up plenty. He admits he didn't sleep after the Cal game. He wasn't much for eating on Sunday, either.
"You feel like crap," he said. "You wish you had the play back. I can't tell you how many times I've replayed it in my head and what could have gone different."
Yet there's a big, fat redemption opportunity coming to town Saturday and a big stage on which to earn it. Pac-10 leader and 11th-ranked Oregon (8-2, 6-1) will square off with the Wildcats (6-3, 4-2) with first place in the conference at stake (ABC, 8 p.m. EST). ESPN's College GameDay also will be there, so the scene figures to be plenty festive.
The situation is fairly simple for both teams. Win and you're still in.
If Arizona wins its final three games, it's going to its first Rose Bowl. If Oregon wins its final two, then it gets the date with the Granddaddy.
Foles' season had been cruising along at a very impressive rate before the 24-16 loss at Cal. The 6-foot-5, 235-pound sophomore became the starter by the season's fourth game, and the Wildcats headed to Berkeley averaging 32.2 points per game and ranking No. 1 in the conference in total offense (448.6 yards per game). They had given up only four sacks all season and Foles ranked second in the conference and 20th in the nation in passing efficiency.
But the Bears turned in their best defensive performance of the year and kept Foles and company in check. With the Wildcats running game stymied, Foles completed 25 of 41 passes for just 201 yards with a touchdown and interception and was sacked three times, twice on the final possession. Those short passes to his speedy wideouts that had been breaking for nice gains before were stopped immediately by a suddenly sure-tackling Cal defense, see Foles' meager 4.9 yards per completion.
"Our offense just couldn't get into a rhythm," Foles said.
Now the question is how does Foles bounce back from his first real taste of adversity? While his upside is obvious, coach Mike Stoops also pointed out that Foles hasn't arrived.
"He's certainly a work in the making," Stoops said. "He's a talented player. He's got a lot of work to do but he shows a lot of positive signs. He's very accurate, has good poise, sees the field very well, has great instincts. Those are all very positive attributes. The maturity and the timing, all of those things are still coming. Getting comfortable at everything he does... Getting that ultimate confidence in what you're doing and handling everything, I think he still shows signs of a player maturing."
Foles said he buried himself in Oregon game film on Monday, and that served to refocus him. He quickly pointed out that the loss at Cal didn't irrevocably ruin the season.
The big prize remains there for the taking. It has not been deflected away.
Said Foles, "I know the big picture. You always are aware of the big picture."