Toby Gerhart: Strike a pose?
In perhaps the most impressive Heisman Trophy statement of the season, Toby Gerhart rushed for 205 yards on 29 caries, scoring three rushing touchdowns and passing 18 yards for another in Stanford's thrilling 45-38 comeback win over Notre Dame.
Gerhart -- oh, he also caught a pass for 33 yards -- was simply a beast, repeatedly punishing the Notre Dame defense. He never went down on first contact, and it's certain that more than a handful of Fighting Irish defenders are going to be worse for wear Sunday morning.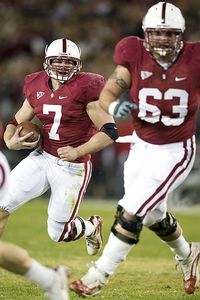 Jason O. Watson/US Presswire
Stanford's Toby Gerhart rushed for 205 yards and three touchdowns against Notre Dame. He also threw for a touchdown.
This was Notre Dame's fourth consecutive defeat, so the program already was hurting. The Irish finish the season 6-6, with all six loses coming by seven or fewer points. Coach Charlie Weis is almost certainly going to be looking for work this winter.
But this one was about Gerhart and Stanford, which finishes the season 8-4 and will be heading to its first bowl game since 2001. The Cardinal, by the way, went 1-11 in 2006, the season before coach Jim Harbaugh arrived.
Notre Dame took a 14-10 lead in the first quarter and didn't trail until Gerhart's final TD run with a minute left -- a run in which the Irish appeared to let him score in order to get the ball back.
The Irish drove to the Stanford 24, but couldn't punch in a tying TD.
For much of the game, the offenses dominated the opposing defenses. Notre Dame countered Gerhart with Jimmy Clausen and Golden Tate, a pass-catch combination that had the Cardinal secondary on its heels. Clausen completed 23 of 30 passes for 340 yards with five touchdowns and no interceptions. Tate hauled in 10 passes for 201 yards and three touchdowns.
But the Cardinal defense got the game's critical stop with six minutes left. On a third-and-2 from the Irish 35, running back Robert Hughes was stopped for no gain.
Stanford took over. Or Gerhart took over. He rushed seven times for 54 yards on the 10-play, 72-yard game-winning drive, treating the Irish defenders like they were pinball bumpers.
At this point, it's impossible to imagine that Gerhart won't be invited to New York for the Heisman Trophy ceremony. This performance, however, may have made this a two-man contest with Texas quarterback Colt McCoy, though a couple of fellows playing in the SEC championship game on Dec. 5 might make their own counter-statement.
Gerhart has rushed for 1,736 yards this season -- 144.67 yards per game. His 26 rushing touchdowns lead the nation and are a new Pac-10 record.
Moreover, in an age when speed kills, Gerhart reminds us that sometimes power ain't much fun to stop either. Not that Gerhart is slow. He hates it when folks doubt his speed, and we don't want to get on his bad side.
He's a hard man. Some defenders might swear he's made of bronze.