There's no way to sugarcoat it. Oregon embarrassed Oregon State's defense last year.
The Beavers entered the 2008 Civil War ranked 13th in the nation in total defense (290 yards per game). In the spring, five players from that unit would be drafted by NFL teams.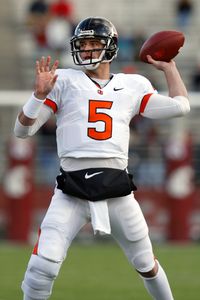 AP Photo/Dean Hare
Oregon will have to stop Oregon State quarterback Sean Canfield and the Beavers top-ranked passing offense.Yet the Ducks rolled up 694 yards in a 65-38 victory.
For the Beavers, it was a nightmare in Reser Stadium. It cost them the Rose Bowl. For the Ducks, it was inspiring.
"John Wooden said that competitive greatness is when you play your best against the best," Oregon coach Chip Kelly said. "That's what our players did. Our players just made plays. It wasn't a scheme deal. It wasn't like we exploited anything. It had less to do with coaching than any game I was involved with last year."
Oregon can probably identify with how a defense can have a horrible day. It's played good defense all season, but Stanford somehow rolled up 505 yards in a 51-42 win on Nov. 7.
If defense, indeed, wins championships, then it's hard to imagine that defense won't be where the 113th Civil War on Thursday turns. After all, it's all about a championship, considering the winner goes to the Rose Bowl.
It will be strength-on-strength battle.
Oregon has the No. 1 rushing offense in the Pac-10. Oregon State has the No. 1 rushing defense.
Oregon State has the No. 1 passing offense in the conference. Oregon has the No. 2 passing defense.
Both teams rebuilt their defenses this offseason. The Ducks lost six starters -- four were NFL draft choices -- while the Beavers lost eight, including their entire secondary and three-fourths of the defensive line.
Kelly said repeatedly before the season began he wasn't worried about his defense. He loved the across-the-board speed, particularly at linebacker. His secondary ranked among the nation's best.
Even when two cornerbacks -- starter Walter Thurmond III and his backup, Willie Glasper -- went down early with season-ending knee injuries, the Ducks continued to play well.
"[There's] a lot of athleticism and speed," Oregon State coach Mike Riley said. "One of the best Oregon defenses I've seen."
The Ducks perhaps revealed some vulnerability to a power-rushing attack -- Stanford piled up 254 yards on the ground -- but that's not the Beavers thing on offense.
The first order for the Ducks is disrupting Oregon State quarterback Sean Canfield, whose quick release has made him the conference's top-rated quarterback.
Oregon State, which starts two sophomores and a true freshman on its offensive line, surrendered 15 sacks in the first four games. But it gave up just 12 in the past seven, in large part because Canfield is distributing the ball quickly to the Rodgers brothers, James and Jacquizz, who are one-two in the conference in receptions per game, and letting them do their thing.
The Ducks rank third in the conference in sacks with 30, but will they be able to get to Canfield? And if not, will they tackle well in space?
As for Oregon State's defense, Riley and defensive coordinator Mark Banker talked candidly about their concerns in the preseason. The Beavers gap-cancellation scheme counts on getting pressure on the quarterback because the secondary is often in press-man coverage. In 2008, ends Victor Butler and Slade Norris dominated with their edge rush, and cornerbacks Keenan Lewis and Brandon Hughes could handle most receivers one-on-one.
That didn't matter much, of course, when the Ducks rushed for 385 yards last year.
That's why many of the Beavers defenders are as interested in redemption as they are in the Rose Bowl.
"That obviously wasn't the Oregon State team we had last year playing out there on that field, that's for sure," said linebacker Keaton Kristick, one of three starters returning from that 2008 crew.
The Beavers defense was mediocre early in the season. It recorded just two sacks in the first four games and couldn't get off the field on third down. But it's picked up the pace considerably, recording 13 sacks over the last seven games and improving its performance on third down by eight percent.
"I think [Banker] has done maybe his best coaching job ever with this group, considering who we lost," Riley said.
Still, the Beavers looked stout on D before they played host to the Ducks last year. This time, they won't have a home crowd making things difficult for quarterback Jeremiah Masoli.
The first key is fairly simple: Do your job -- don't freelance.
"When you're playing a team that has variety like that you can't do your job and somebody else's," Riley said.
Then second and third keys also are simple: Get off blocks. Tackle. If the Beavers run defense holds up, it's got a much better chance containing with the Ducks passing game.
It should help that powerhouse defensive tackle Stephen Paea is healthy. A knee injury slowed him considerably in last year's game, though it's not encouraging that the guy who starts next to him, Brennan Olander, is decidedly questionable with his own knee issue.
So which team will be grinning after the Civil War for the Roses?
As they say: Defense wins championships.