Every decision Chris Petersen has made in the past three years has led to this. From the staff he brought over to Washington, to the players he recruited, to his decision to leave Boise State, each move was manufactured with calculated precision to this endgame.
And the name of this endeavor is access.
Petersen is preparing his Washington Huskies for the opportunity to play for a national championship, something that -- despite his best efforts -- eluded him when he was running the show at Boise State. Step 1 is a date with the Alabama Crimson Tide on Dec. 31 in the College Football Playoff Semifinal at the Chick-fil-A Peach Bowl.
If Petersen didn't feel that competitive pull, he'd still be king of the Smurf turf, politely declining offers from Notre Dame or USC or whichever Power 5 program had fallen from grace and needed an overhaul. Had he never left Boise State, there's little doubt the Broncos would have continued to flourish. But he'd also be the Dan Marino of college football coaches. He'd be Phil Mickelson circa 1999 watching Payne Stewart drop his 15-foot par at Pinehurst. He'd be the greatest to never win a big one.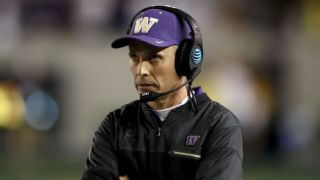 But now he has a chance to be Mickelson circa the 2004 Masters. When Petersen finally left Boise, he said he felt "the time was right." That's coaching Latin for "I've done all I can here." And he had. At Washington, he's getting the shot his previous station wouldn't allow.
The Bowl Championship Series and its 16-season run was both kind and cruel to Petersen and his Boise State Broncos. On one hand, it elevated the relatively unknown WAC team into the national spotlight.
As we approach the 10-year anniversary of Boise State's 43-42 win over Oklahoma in the 2007 Fiesta Bowl, the Statue of Liberty and Hook and Lateral plays are instantly remembered with high-definition clarity. It was one of those "do you remember where you were?" moments. Although Utah and TCU made just as many BCS appearances as Boise State, Petersen's Broncos first come to mind when hearing the cleverly alliterated "BCS Busters."
But for all of Petersen's successes at Boise State, the opportunity to play for a national championship was still just a dangling carrot. The Broncos went 13-0 in 2006 -- the only undefeated team in the country -- but finished fifth in the final AP poll, receiving a solitary first-place vote. They also went undefeated in 2009. But with the Mountain West's TCU also making a BCS appearance, both were relegated to playing each other. This time, the Broncos finished fourth in the polls.
And let's not forget 2008, when they ran the table in the regular season. Their reward was the San Diego County Credit Union Poinsettia Bowl.
Boise State may play on a blue field. But the national championship is still reserved for blue bloods.
"We felt like we were in position to possibly do something," said former Boise State quarterback Kellen Moore. "But we never got that opportunity. We tried not to worry too much about it. Especially back then, when there were only two teams (before the College Football Playoff). You didn't have much control of it, especially in our situation."
So Petersen changed the situation. His situation. Now he has a seat at the table with Nick Saban, Dabo Swinney and Urban Meyer.
"With Coach Pete being at Washington now, he's got all of that exposure and opportunity in the Pac-12," said Moore, who is missing the 2016 NFL season with the Dallas Cowboys because of a broken fibula. "Anyone who watches them, you realize they are one of the best teams in the country."
Petersen's entry into the playoff comes by way of coaching the Huskies to a 12-1 record and a Pac-12 championship. Under Petersen, Washington is the first conference team since expansion to lead the league in scoring offense and defense.
And like Mickelson, Petersen will get more than this shot. He's only 52, and he's only in Year 3 at Washington. While much of the Pac-12 re-tools, Petersen has set a foundation sturdier than Mount St. Helens. Regardless of what happens on New Year's Eve, it's probably safe to assume he and the Huskies won't be a one-and-done playoff participant.
Petersen's Boise State teams -- as well as Utah and TCU -- should be credited for laying the groundwork if a Group of 5 team ever gets to compete for a national championship. It'll probably take years -- if ever -- for that to happen. And Petersen doesn't have that kind of time.
So he swapped blue for purple. And instead of waiting for the day access was given, he just took it instead.