In his first 19 years as a head coach, Dennis Erickson posted just three losing seasons and never two in a row.
So you can understand if Erickson, having just suffered through his second consecutive losing season at Arizona State, isn't thrilled about watching seven other Pac-10 teams play in bowl games over the coming days.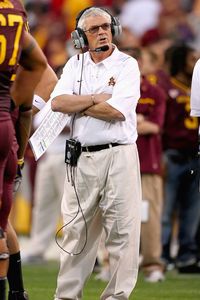 Christian Petersen/Getty Images
Arizona State coach Dennis Erickson's Sun Devils have posted back to back losing seasons for the first time in his career.Without those extra practices, he's free to think about his 4-8 team losing four games by five or fewer points, including three on late field goals.
Not that he isn't busy.
Erickson has been recruiting hard to address the Sun Devils shortcomings -- many of which are on offense, particularly the line -- and he's also trying to hire and offensive coordinator.
Erickson knows that the glow of his 10-win season in 2007 has faded. He knows that Arizona State fans aren't happy about the program posting consecutive losing seasons for the first time since 1946-47.
Neither party is accustomed to losing. It's fair to say there's pressure on Erickson to reverse that trend for both next fall.
It won't be easy. The Pac-10 looks to be even deeper in 2010 and the Sun Devils and Oregon State are the only two teams looking for new starting quarterbacks.
So, before the bowl season takes off in earnest, it seemed like a good time to check in.
You had a great start but the past two seasons haven't produced bowl games, give me your state of the program.
Dennis Erickson: I believe the program is in good shape. We had a plan coming in here where we were going to build it from the ground floor up and that's what we've done. Obviously, we've played a lot of freshmen over the last couple of years and we've had some injuries. But we're getting better and better all the time. Defensively, we're about where we want to be. That's the No. 1 thing. We've played well defensively. The biggest problem the last two years is we haven't been real productive offensively. We've got to get that taken care of. If we can do that, we'll win a lot of football games.
Was there one critical moment this fall where if things had gone your way the season might have turned out differently?
DE: Without question. There were a couple of times. If we win down at Georgia, even though they didn't turn out like everybody thought they were going to be -- we got beat by a field goal there [20-17] -- things might have gone differently. But probably more than anything was the Cal game [a 23-21 loss], where we had a chance to win it and they came down and beat us at the end. We had a bunch of them like that -- Georgia, that one, USC [a 14-9 loss] and, of course, Arizona [a 20-17 loss]. That one [Cal] could have really got us going, though. Had we won that game, I really believe we would have probably won a couple more.
When do you expect to name your new offensive coordinator? And what are you looking for?
DE: That's a good question as far as when it's going to happen. I'm going to take my time. I'm going to talk to five or six different coaches, maybe even more than that. I don't know when I'm going to get it done because there may be some guys in the NFL who I want to talk to and I wouldn't do that until their season is over with. Hopefully by the middle of January I'd have that done, possibly earlier than that. What I'm looking for is a guy with experience being a coordinator, who's coached the quarterbacks, who does a good job of coaching and teaching the quarterbacks, who's been a play-caller. Those are the biggest things I'm looking at. I think, for philosophy, everybody is kind of the same, somewhat the same. We're looking for some new ideas like everybody else is. That's something I want to talk about. I'd like to be multiple, formation-wise. I don't want to be in the gun all the time and I don't want to be under center all the time. I want to mix it up. I think you've got to run the football, so we've got to find a way to do that.
How do you see things going in the quarterback competition this spring? Is there already a pecking order in your mind?
DE: Not really with a pecking order because it's really kind of a toss up. Brock [Osweiler] really improved from where he started a spring ago. Obviously he was put in a tough situation at Oregon. I think Samson [Szakacsy], once his elbow is completely healed, he gives you a chance because he's so athletic and accurate. He did some good things, though his inexperience hurt us at times. Steven Threet has more experience than all of them because he played at Michigan. It will be really interesting. I don't know if I've ever been blessed with three guys like that. We'll let the competition roll and see what happens. If possible, I'd like to make a decision by the time we go into camp in the fall, but I don't know if I can do that. It's really kind of open. Pecking order? That's a good question. I think you'd start with the guys who played a lot last year and then work your way down, but all three will get opportunities with the first group, particularly during the first weeks of spring football.
How about the offensive line, do you expect a step forward in 2010? And what about some of those injured guys: Are they going to be able to come back next fall?
DE: That's kind of been an Achilles heel for us. Two or three young offensive linemen we think would be great players haven't played much, Zach Schlink being one of them. He starts against Washington last year and plays real well but hurt his knee again and didn't play this fall. We had to redshirt him. He''ll be ready to go in the spring. Matt Hustad, when he was healthy and played, he played really well, then he got hurt against Oregon. We look for him to be back in the spring. We've got some young guys who worked their way into it who played quite a bit. Garth Gerhart will be our starting center. Andrew Sampson played quite a bit last year at guard and center. Guard Jon Hargis is back. Kyle Johnson at left tackle -- he has been a backup but is getting bigger and stronger. He'll be a redshirt sophomore next year. Patrick Jamison, he'll be a redshirt sophomore. So these guys who we recruited three years ago are starting to grow into what they are doing. So we've got guys who have experience in our front and have practiced and know what we're doing. That makes a big difference when we go into spring. And then we've got a couple off junior college guys that will be in here that we really think can help us. We've got a kid, a true freshman we redshirted this year, Evan Finkenberg, who has a lot of promise. Again, we're a little young but we've got guys who have been around here two or three years, too, which makes a heck of a difference. They're a lot bigger and stronger than anybody we've had here over the last couple of years.
Do you expect to get back to a bowl game in 2010?
DE: Without a question. That's one of our goals. If we can continue to improve offensively and stay like we are on defense, that's what we should do. Defensively, we've got a lot of guys coming back. It will be interesting to see. The problem that you have is in our league. I don't see anybody getting worse. I see guys getting better. This league is hard.