Seemingly every big-name coach in the country had been connected to the USC vacancy. Lane Kiffin was included in some reports, but almost as an afterthought.
And yet Kiffin, Tennessee's head coach for just one year, is coming back west to coach the Trojans and replace his mentor Pete Carroll.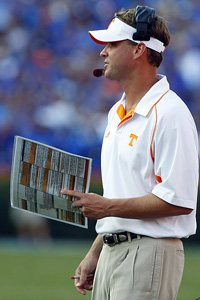 Kim Klement/US Presswire
Lane Kiffin's hiring at USC will turn some heads.
It's a stunning, splashy decision that few saw coming, but will inspire a lot of "Really?" from media and fans.
Kiffin's head coaching career has been spotty. He was 7-6 in one season at Tennessee and had an acrimonious split in 2008 with the Oakland Raiders, where he went 5-15.
Kiffin, who coached under Carroll from 2001-2006, has been known to be outspoken. Almost immediately after he was hired at Tennessee, he got in trouble with the SEC for making comments about other coaches and other programs, particularly Alabama and Florida. During his brief tenure in Knoxville, Kiffin had some issues with the NCAA, and his players had some off-field trouble.
Yet hiring Kiffin also might turn out to be a home run, particularly when you consider the staff he is putting together.
Kiffin, 34, will bring his father and defensive coordinator, Monte Kiffin, as well as assistant head coach and recruiting coordinator Ed Orgeron with him to USC.
The elder Kiffin is one of the country's mostly highly regarded defensive minds. Orgeron is considered one of the nation's best recruiters. He was the Trojans recruiting coordinator from 2001 to 2004, when USC multiple times landed the nation's No. 1 class.
A source told the Pac-10 blog that USC also is expected to pursue Norm Chow as offensive coordinator. Chow is presently the offensive coordinator at UCLA, but he was Carroll's coordinator when the Trojans won consecutive national titles in 2003 and 2004.
"Lane Kiffin is a great get," said USC offensive lineman Jeff Byers, a sixth-year senior who played for Kiffin for three seasons. "He learned under coach Carroll. He's a guy who's been there. He's a great recruiter. I think it's a great hire -- I think [athletic director] Mike Garrett pulled a great one out of his hat. I don't think anybody was thinking Lane Kiffin."
Nope.
The recruiting skill is significant. Kiffin and Orgeron are leaving behind a class at Tennessee that presently ranks sixth in the nation, according to ESPN.com's Scouts Inc. His first class with the Vols ranked 15th.
One of the major worries when Carroll bolted for the Seattle Seahawks was that the Trojans recruiting class, presently ranked 11th, would fall apart. Odds are pretty good that won't happen now. Orgeron is a force of nature in recruiting.
And let's face it: While USC was always well-coached under Carroll, the secret of his success was recruiting the best players.
As far as Xs and Os, if Kiffin is able to pair his dad and Chow, he will have as good a pair of coordinators as any program in the nation.
"It's great news," quarterback Matt Barkley told ESPNLosAngeles. "I remember meeting Kiff way back on the recruiting trail when I was a freshman in high school. I liked him when I met him. I like that he knows how to live and breathe the Trojan way."
Barkley also pointed out that the Kiffin combination -- and potentially Chow -- will mean significant continuity in terms of scheme on both sides of the ball. The elder Kiffin was one of Carroll's defensive mentors, and they share many of the same philosophies.
"It's comforting to know that not a lot is going to change," Barkley said. "Kiff will have his own way of doing things, but I'm glad the offense isn't going to be a whole lot different."
"Kiff" does have his own way of doing things, that's for sure. His hiring will generate national buzz, good and bad.
Now all he needs to do is duplicate Carroll's 83.6 percent winning percentage.