In his first meeting with reporters as USC's head football coach, Lane Kiffin embraced the idea of providing a strong connection to the Trojans dynastic Pete Carroll Era, but he probably should have torn a page from Carroll's news conference playbook.
The filibuster.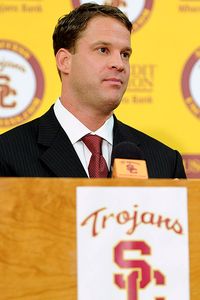 Kirby Lee/Image of Sport/US Presswire
Lane Kiffin faced a lot of tough questions in his first meeting with reporters as USC's new head coach.
When Carroll met with reporters this week to explain his decision to bail on the Trojans and head north for the Seattle Seahawks, he rambled for the first 20 minutes of a 30-minute news conference in order to limit his exposure to tough questions.
Kiffin didn't do that. And he got grilled by pointed inquiries about his coaching résumé, USC's potential NCAA issues, his abrupt departure from Tennessee and about whether his assistant, Ed Orgeron, tried to lure previously committed Vols recruits to USC.
There will be a diversity of opinion about how he competed with the big-city reportorial crew. In the interest of giving the new guy a break, let's call it a draw. That's a win for USC, because after Kiffin bailed on Tennessee after just one season, the consensus reaction outside of Heritage Hall was he was an amoral opportunist whose rise through the coaching ranks before he even turned 35 is almost inexplicable.
Yet Kiffin made a reasonable point about the national hullabaloo as well as the emotional explosion of Tennessee students, who took a break from studying and hit the streets Tuesday night to burn mattresses and chant obscenities, eventually requiring a police presence to keep them from rioting because they'd learned Kiffin was pursuing what he called his "dream job."
"If they weren't upset that we were leaving, then we weren't doing anything right," he said.
What folks who regularly attend games in the biggest stadium in the SEC hate to hear is the fundamental reason Kiffin headed West.
"This is the No. 1 job in America," he said.
First order of business for USC fans: What about Norm Chow?
Kiffin left that open because talks are ongoing with Chow, who is presently -- oh, boy! -- UCLA's offensive coordinator.
"We won't get into any names out of respect for other colleges," Kiffin said.
Wait. Forget Chow for a moment. What's up with talk of respect? Didn't Kiffin trash talk other SEC programs from his first day as Tennessee's coach?
"We have great respect for every coach and every team in this conference," he said about his return to the Pac-10.
Come again? Why not stir things up like he did at Tennessee?
He explained, "We don't need to go out and create energy about our program. We don't need to grab attention."
Hmm. Let's see how long his new-found diplomacy lasts.
As for Chow, Kiffin said he doesn't have hard feelings about how things went down after the 2004 season, when Chow left in a huff for the Tennessee Titans, feeling he was being marginalized by Carroll, Kiffin and fellow offensive assistant Steve Sarkisian, now the head coach at Washington.
"I think the world of Norm," Kiffin said. "I don't have any issues with him."
He might have one. When asked if he planned to call plays for the offense, he said, "That would be my guess because that is what I've always done.'
Hard to believe that won't be an issue for Chow, as it was when Carroll asked him to surrender play-calling duties to Sarkisian and Kiffin.
Beyond Chow, Kiffin anticipated the next line of questioning: His rogue reputation and USC's present issues with the NCAA.
"The No. 1 thing we're going to do is have a dedication to running a clean and disciplined program," he said in his introductory comments.
When asked about potential NCAA sanctions for USC due to the Reggie Bush investigation, he said, "I feel very confident that it will not effect the recruiting and will get resolved."
He was repeatedly asked about allegations Orgeron immediately called Tennessee recruits to try to convince them to go to USC. Kiffin repeatedly denied any wrong-doing, though it was impossible to understand the substance of what degenerated into a few minutes of "did-not, did-too" during the news conference.
He did provide his policy for trying to lure Tennessee recruits to USC: "I will not be calling them unless they call us," he said.
Kiffin was more excited to talk about recruiting in general. He and Orgeron are generally regarded as two of the nation's best recruiters.
It's clear that Kiffin believes USC should continue to recruit nationally.
"We will be able to go anywhere in the country to get the best players and bring them here," he said.
Kiffin called USC "a perfect fit." He called it "home."
While USC is his third head coaching job in 17 months, he said he doesn't expect to be uprooting again anytime soon.
"I'm at the best place in America -- there's nowhere for me to go," he said.