After an 8-5 season and the program's first bowl game since 2001, it's clear Stanford is on an uptick under fourth-year coach Jim Harbaugh.
So how far will that next step take the program in 2010?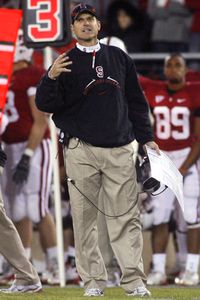 Cary Edmondson-US PRESSWIRE
Stanford Cardinal head coach Jim Harbaugh has had to fill a lot of vacancies on his staff.Spring practices began Monday -- the Cardinal split up their spring into two sessions or "mini-camps" -- with 17 starters back and a number of young players from nationally rated recruiting classes expected to compete for playing time.
But there are issues. Harbaugh has been trying to fill five voids on his coaching staff during the offseason, a task that appeared over until quarterbacks-receivers coach Ron Turner bolted for the Indianapolis Colts.
Moreover, the Cardinal will be breaking in a new 3-4 defensive scheme, not to mention trying to replace Heisman Trophy runner-up Toby Gerhart.
That's a lot of change.
Harbaugh, however, seems to enjoy change. Consider that offensive players Alex Loukas and Owen Marecic will both change positions to defense (at least this spring). Loukas from quarterback to safety; Marecic from fullback to linebacker.
So what's up with the House of Harbaugh as spring starts? Seemed like a good moment to check in.
Part I today, Part II tomorrow.
So, the smoke has cleared after recruiting, give me the state of the Stanford Cardinal?
Jim Harbaugh: Every year is a new year. The team is going to find its identity. First and foremost going into spring ball is evaluating the players and finding their roles, whether they are starters or contributors. Anybody who could fill a role for us this season, we want to give him the license and opportunity to show that, show themselves.
You've had some fairly significant staff turnover: Tell me about the new guys, starting with new defensive coordinator Vic Fangio.
JH: Vic Fangio has a pretty well-known reputation in football. You come across people in your career in football, whether it's as a player or coach, and you think they are really damn good at what they do. Vic is one of the people I've been most impressed with, whom I've met associated with football.
And defensive line coach Randy Hart?
JH: We really felt when we played Notre Dame last year that his was the best coached defensive line that we played against or saw on tape. When he was available, that was the first call I made. From the first conversation I had with him, I knew he was the right fit here for us. Tremendous enthusiasm and energy and character.
And special teams coordinator Brian Polian?
JH: Like Randy, I didn't know Brian but I was always impressed with him when we played against his special teams units for three years -- Stanford vs. Notre Dame. They were good battles but I kind of felt they got the better of it. And the footprint he's always left in recruiting, we have not been able to match. So if you cannot beat 'em, join 'em.
And how about secondary coach Derek Mason?
JH: Derek is good. [Defensive tackles/outside linebackers coach Lance Anderson] had worked with Derek, and I'm very good friends with Leslie Frazier [the Minnesota Vikings defensive coordinator] and Brad Childress [the Vikings head coach] and all those people had great things to say about Derek. I had never met Derek before but he is really, really good. I'm really impressed with him as a teacher. He's got an eye for football. Just impressive to watch him coach. A solid technician and teacher who has an excellent way about him.
Now I know that Ron Turner, who was hired to coach quarterbacks and receivers, left for the Indianapolis Colts.
JH: He left for the Colts. He viewed that as a better job. What more can you say?
How does a 3-4 base scheme make you guys better vs. the 4-3?
JH: It's base out of a 3-4 but that could still have some principles out of a 4-3. The evaluation of our personnel has never been more important than it is this spring, with new coaches and a new scheme. Even if that's the base, we'll do whatever is best to stop people. Vic's got experience in both of them -- in just about any defense that's ever been run.
How will you use Owen Marecic this year: Is he two-way, or his he now mostly an inside linebacker?
JH: He's a starting fullback on our team and a two-way player. At this point right now, it's too early to say who the starters are. We're evaluating. But he's running with the ones on defense and he's the starting fullback on our offense.
Part II on Wednesday: Replacing Toby Gerhart, Andrew Luck's increased role and Harbaugh talking about whether Stanford fans should fret about him leaving.