PITTSBURGH -- The Steelers have been waiting months for the chance to play Tom Brady and the New England Patriots again, even though that matchup usually ends in misery. Six of Brady's past seven games against the Steelers have gone his way.
But Pittsburgh wants to see where it stacks up against the best.
"He is the GOAT," safety Mike Mitchell said.
The Steelers are armed with a future Hall of Fame quarterback, too. After a slow start to the season, Ben Roethlisberger has 1,446 yards and 12 touchdowns in his past four games, more than Brady during that span.
Roethlisberger's momentum might be enough to get the best of Brady on Sunday at 4:25 p.m. ET at Heinz Field, where Big Ben is sometimes unstoppable. But Brady's track record says otherwise.
Both quarterbacks have shown a willingness to spread the ball to different receivers, which the Steelers' defense found out the hard way after Chris Hogan went for two touchdowns in last season's AFC title game.
Roethlisberger's group carries more star power. Two of his top four targets from the past 14 years are featured in this offense -- including running back Le'Veon Bell, who missed last season's playoff game with a groin injury.
Brady has variety at his disposal, using three different versatile running backs, three capable tight ends and receivers with various skill sets, such as Brandin Cooks' speed, Danny Amendola's slot-receiver skills and Hogan's all-around game. Five different Patriots receivers have caught at least 320 passes from Brady, showing he's an equal-opportunity quarterback.
Steelers coach Mike Tomlin calls the Patriots' offense "multiple" -- they can pound teams with the run or the pass. Brady's decision-making at the line will be a big part of that.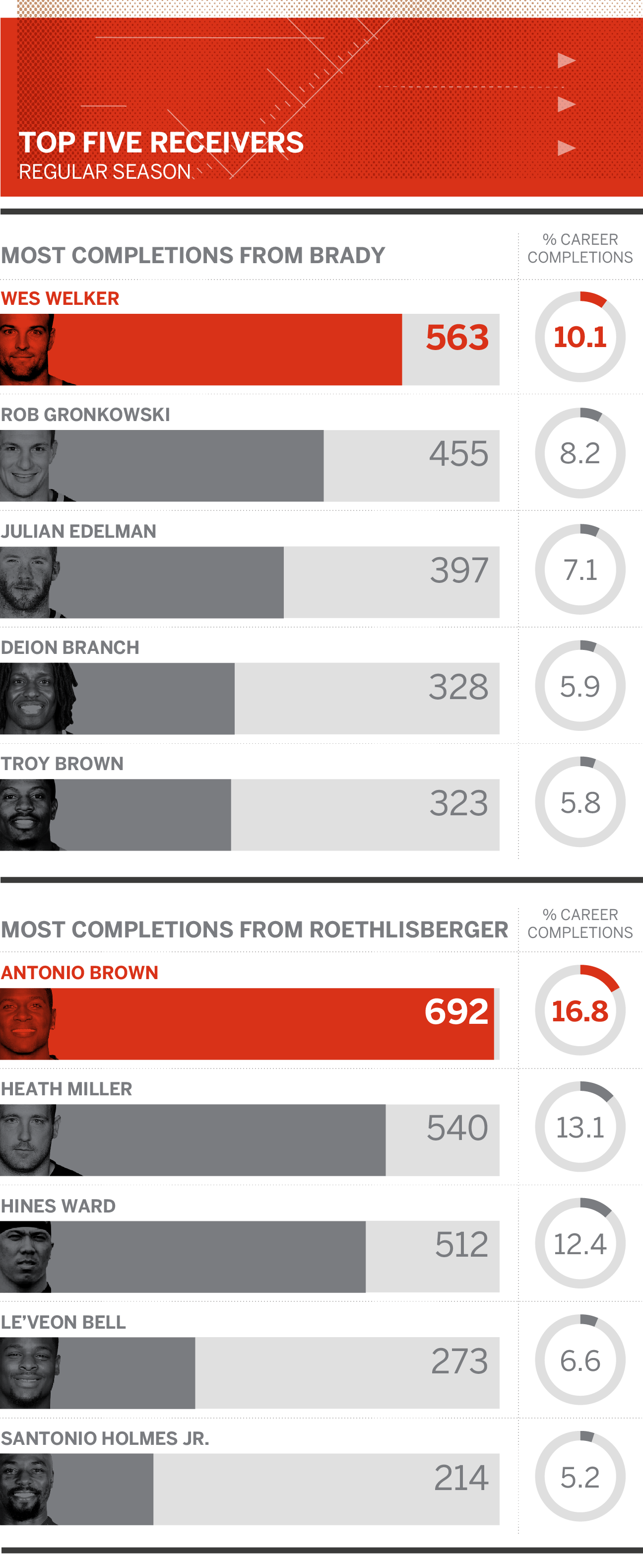 When it comes to wins against opposing quarterbacks, Roethlisberger has dominated the AFC North and a handful of teams, while Brady has dominated most of the league.
Going 11-6 against Peyton Manning -- with Manning in his prime for many of those games -- is still one of Brady's greatest feats. The Giants' Eli Manning is really the only opposing quarterback with a reputation of beating Brady on big stages. The Steelers know they must figure out Brady's no-huddle offense, or else he'll be adding to his 22-touchdown total from the past seven meetings against them.
Roethlisberger has gotten the best of virtually every AFC North opposing quarterback. (You should see his record against the Browns.) And he has had plenty of memorable moments as a two-time Super Bowl champion.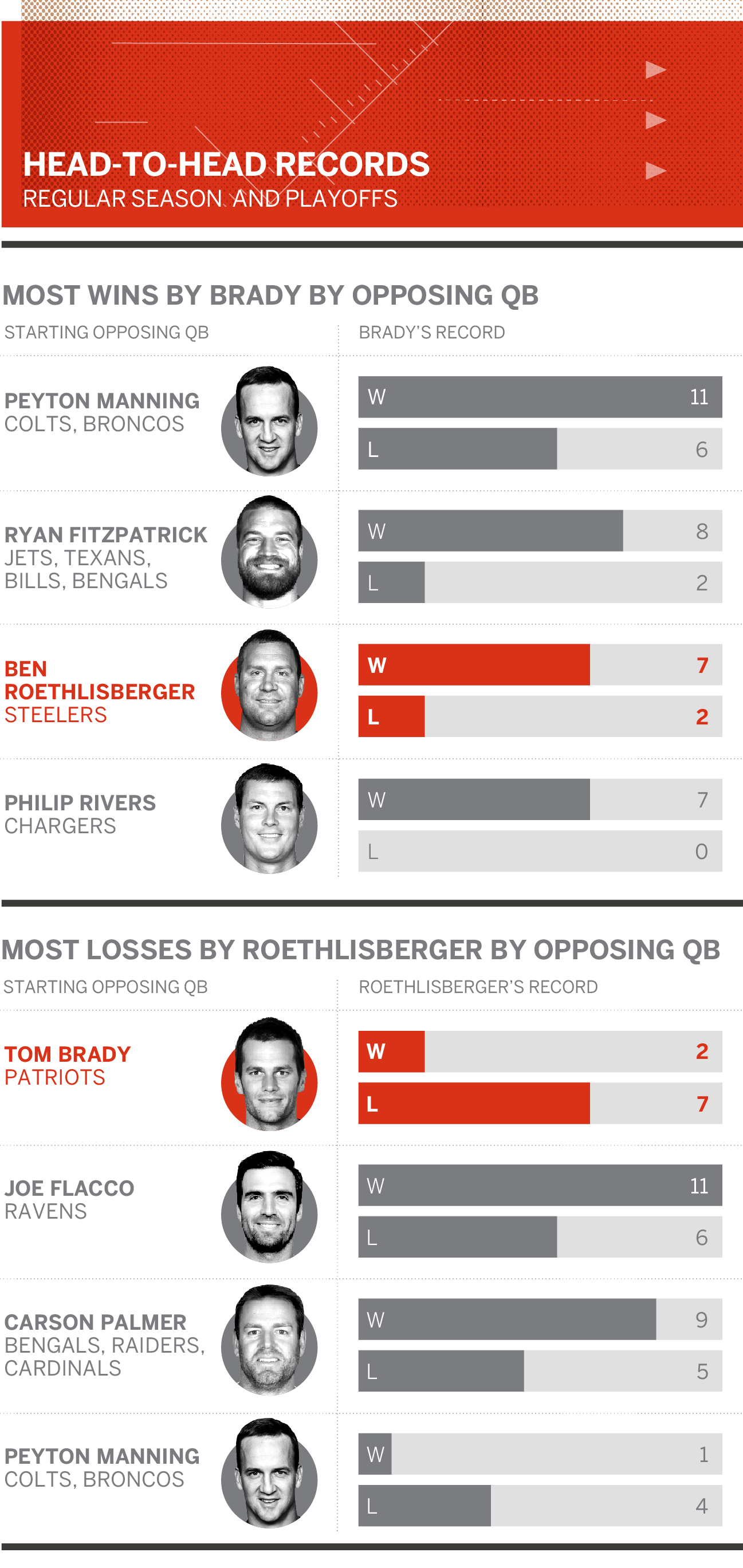 The all-time rankings show where Brady and Roethlisberger belong in the quarterback pantheon past and present. Roethlisberger is in the bottom half of the top 10 in most categories, but he's climbing in touchdowns and passing yards, a category where four of the seven signal-callers ahead of him are retired. Brady is first, second or third in most categories, which reaffirms his GOAT status in the eyes of many.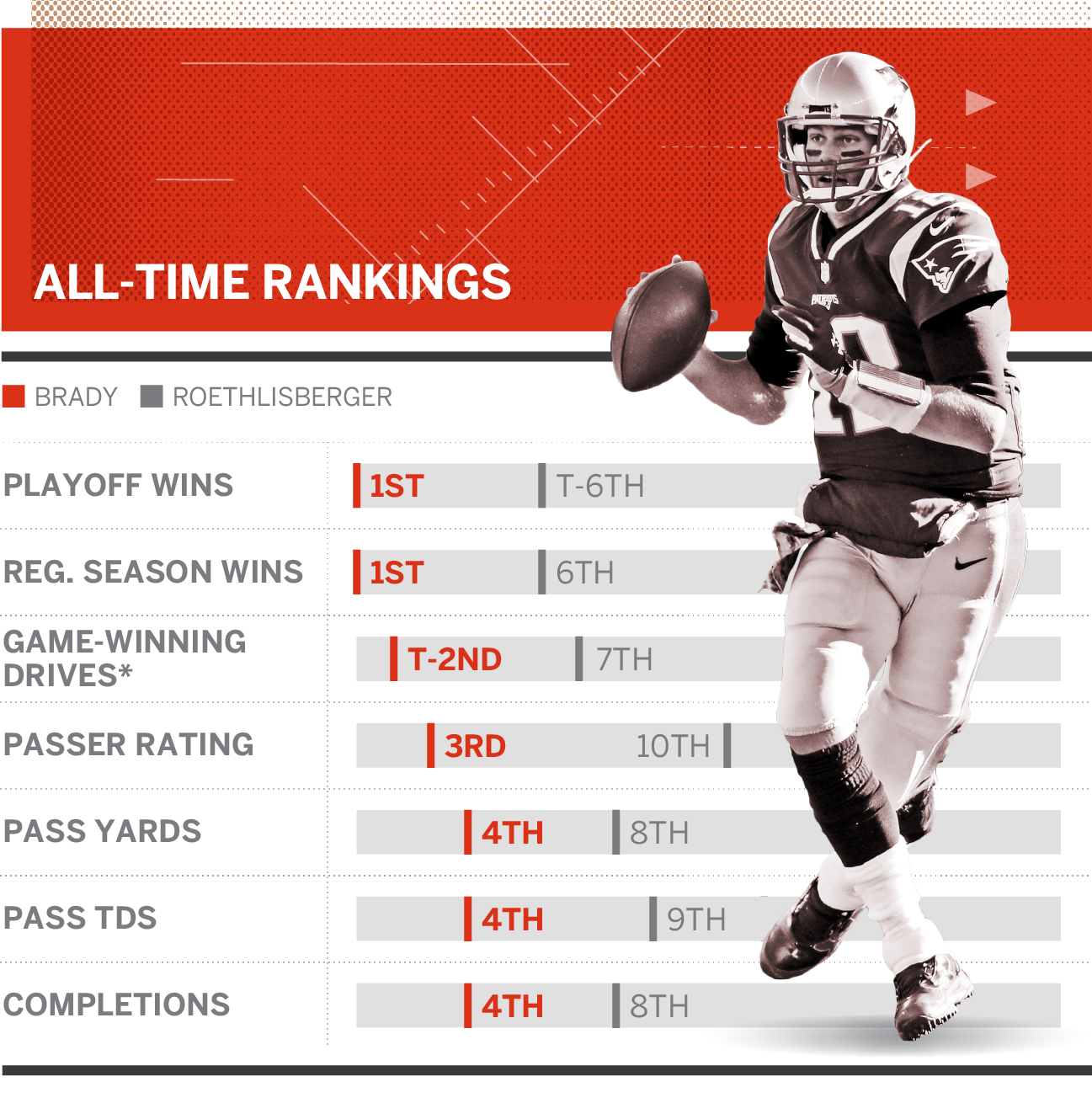 What they're saying
"He breaks you down before the play's even snapped. You have to be willing to play the game with him, have some checks for him. But at the same time, you want to be able to not be dictated to but dictate to him." Steelers DE Cam Heyward
on facing Tom Brady
"He can do whatever he needs to do. He's a great player. He's got a lot of experience, has a lot of weapons." Patriots coach Bill Belichick
on facing Ben Roethlisberger