Welcome back to another edition of Jeopardy!, the quiz that tests your knowledge of sports, pop culture and assorted trivia. Please remember to phrase your responses in the form of a question.
(Correct questions at the end of the quiz.)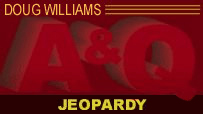 1. Answer: Speed limits are listed as 18 and 10 mph on this college campus to honor these former quarterbacks at the school.
2. Answer: Chipper Jones, who homered on his 40th birthday this week, is more than eight years shy of the record for oldest player to hit a homer, set by this retired infielder who did it twice at age 48.
3. Answer: This retired NHL defenseman, who played 20 seasons, holds the unofficial record for most teeth lost during a career, with 12.
4. Answer: Former White Sox star Frank Thomas is a businessman with multiple interests, including co-ownership of this beer label.
5. Answer: In 1979, this All-America linebacker was the first overall pick of the NFL Draft, yet decided to sign with the Montreal Alouettes of the Canadian Football League.
Question 1: Who are Archie and Eli Manning of Mississippi?
Question 2: Who is Julio Franco?
Question 3: Who is Ken Daneyko?
Question 4: What is Big Hurt Beer?
Question 5: Who is Tom Cousineau?