Welcome to another edition of Playbook Jeopardy!, the quiz that tests your knowledge of sports, pop culture and assorted trivia. Please remember to phrase your responses in the form of a question.
(Correct questions at the end of the quiz.)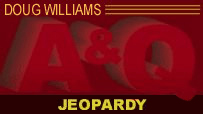 1. Answer: In 1967, this athlete was taken with the last pick of the NFL draft – before the title "Mr. Irrelevant" was coined – then was selected with the first overall pick of the NBA draft the same year.
2. Answer: "That offseason my wife told me I needed a hobby," said this 13-year former major leaguer and self-described nerd of how he started collecting his large stash of rookie baseball cards.
3. Answer: This Pro Football Hall of Famer, who turned 87 this week, finished third in the Heisman Trophy voting in 1948 -- after flying 30 combat missions over Germany in World War II.
4. Answer: This kicker -- who has his own website, is from China and was a Division III All-American – has been invited to camp by the Jacksonville Jaguars.
5. Answer: The mother of this NHL star won two Olympic gold medals as a basketball player for the Soviet Union.

Question 1: Who is Jimmy Walker of Providence?
Question 2: Who is Dmitri Young?
Question 3: Who is Chuck Bednarik?
Question 4: Who is Norwich University's Long Ding?
Question 5: Who is Alex Ovechkin?