Today is the last Wednesday without baseball for the next seven months. Soon, thousands of Americans will gather into ballparks to enjoy the hot sun shimmering through cold beers, to hear the sweet crack of a fastball hitting the leather or, for Blue Jays fans, the awkward oomph of a knuckleball thumping the catcher's chest.
Yet there are still some people out there who just plain don't like baseball. For some unfathomable reason, they can't appreciate the sport's board-game-like pace, or the imparity of the cap-less payrolls, or the undying prevalence of steroid use among the MLB's most celebrated stars. It's not that these misguided dinguses are trying to disrespect our national pastime, they probably just think the game is more boring than it actually is.
As we learned with the Manti Te'o hoax and Dennis Rodman's trip to North Korea, pretty much everybody is fascinated by weird stuff. So maybe we could lure more fans to baseball if we were to tune them in to some of the more unusual elements of the game.
So here are eight storylines of moderate strangeness to look forward to in the 2013 season.
The progressive crookedness of Fernando Rodney's cap
Rays closer Fernando Rodney talks to fruit and is therefore a lunatic, but he's also astoundingly effective on the mound. Coming off the best season of his career at 36 years old, some would argue that, like a steak, it's age that's making him better. The real secret, though, is his cap, which he's been progressively tilting to the left over recent years, to the point where it's now basically just sitting sideways on his head. If a 45-degree tilt earned him a 0.60 ERA and five earned runs over 74 innings in 2012, imagine what could happen in 2013 if he angles it any further. We could seriously be talking strikes that break the sound barrier.
The saga of the Mets' serial butt-dialer
Jay Horwitz, the Mets' director of media relations, has apparently made thousands of accidental butt dials to current or former members of the organization, according to this hilarious Wall Street Journal profile. No matter where the players are -- out of country, on the field, in their beds -- Horwitz will butt dial them. They can never be safe. The human butt is a mysterious creature capable of all sorts of trouble, and with the Mets poised for an unspectacular year in the NL East, it seems like the only good stories that'll come out of Citi Field will come from Horwitz's butt.
Mike Trout's neck circumference
If you compare pictures of Mike Trout from high school to today, you'll notice that his neck has just about tripled in circumference. Like a mighty oak, one imagines it accumulates new rings for every year of life, but its current pace of growth seems entirely unsustainable. Of course, Trout proved in his rookie campaign that human physical limitations do not apply to him, so we can expect that his neck will soon take on mutant dimensions. Below is a conservative estimate of what it might look like come October.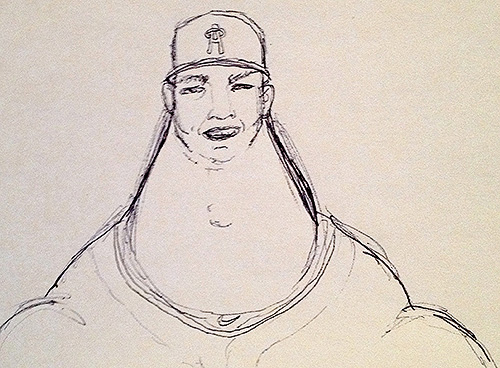 VIN SCULLY VIN SCULLY VIN SCULLY
I guess he doesn't qualify as a "strange storyline," but if you listen to him long enough you will learn some strange and marvelous facts, like how Uggla means owl in Swedish. This is the kind of information that mankind needs most.
The Yankees in panic mode
The Yankees are falling apart. On Opening Day, they'll have $88 million in salary tied up on the DL, which is more than the entire payrolls of 13 other teams. To compensate, they've acquired career underachiever Vernon Wells for a reported $13 million, which basically amounts to plugging the hull of the Titanic with wads of cash while never acknowledging the boat's going under. The team's old and the team's bad, and with rumors of various PED suspensions circling them like vultures, it's likely things will only get worse before they get better. What's strange about this is that if you're under 30, this might be the first time you'll ever consciously experience the Yankees as something other than baseball's ruling imperial force. At long last, someone else will get a chance to buy a championship (probably the Dodgers).
Ticket gimmicks
The economy's rough, so this year teams are trying out some novel approaches to fill the seats. Though the next logical step in the Marlins' treatment of their fans would be to force them into sleeping bags full of cobras, the team's actually offering buy-one-get-one-free ticket specials, as well as Groupons for 52 percent off select seating options. And the Brewers are offering a nine-game ticket plan where, for each game the team wins, you exchange your next game's ticket for one closer to the field -- a process you can keep repeating until you have the best seats in the house. But will these ticket schemes work? Definitely. The Marlins can hardly keep up with the demand.
Injuries just keep getting weirder
Here are some of the injuries we've seen so far this year: Francisco Liriano broke his arm while slamming himself into a door, Elvis Andrus had to sit out due to "tattoo soreness," Gio Gonzalez hurt his forehead on the carpet while playing with his dog, Carl Pavano had to have liters of blood pumped from his chest after falling on a snow shovel and a Red Sox prospect shot himself in the leg. We haven't seen numbers this high on the Injury Absurdity Index since 2004, when Sammy Sosa sprained his back sneezing.
The mounting tension between the birds in the Cardinals logo
Are the two birds in the Cardinals' logo finally going to make out? They've been eyeing each other for decades. Seems like they're about to reach a breaking point. My guess is they'll start going at it sometime around the All-Star break, but it could happen literally any moment now. Be watching.