Welcome back to another edition of Playbook Jeopardy!, the quiz that tests your knowledge of sports, pop culture and assorted trivia. Please remember to phrase your responses in the form of a question.
(Correct questions appear after the jump.)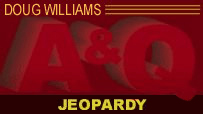 1. Answer: This former NBA star performed an adapted scene from Shakespeare's "The Taming of the Shrew" at a recent fundraiser for the Seattle Shakespeare Company.
2. Answer: His 454-foot home run hit in 2007 ranks as the longest homer hit by a major league pitcher since 2005.
3. Answer: In order to stay in better shape and meet his weight goals, this 340-pound NFL lineman has adopted a mostly vegan diet.
4. Answer: Fans of this team in the English Premier League, upset because the team (owned by a chicken-farming company) will be relegated to a lower division because of poor play, let loose a chicken on the field draped in a team flag during the final game of the season.
5. Answer: This NFL defensive end spent $14,000 to treat a fan, who won a contest he held, to a trip to Las Vegas that included airfare, lodging at the MGM Grand and tickets to the Floyd Mayweather-Miguel Cotto fight.
Question 1: Who is Shawn Kemp?
Question 2: Who is Adam Wainwright?
Question 3: Who is Deuce Lutui?
Question 4: Who are the Blackburn Rovers?
Question 5: Who is the Falcons' Ray Edwards?