If the Lancaster JetHawks aren't careful, they might find themselves on double secret probation by Friday morning.
That's because the Class A California League affiliate of the Houston Astros is playing host to a "Salute to Animal House" promotion at Thursday night's game against the visiting Rancho Cucamonga Quakes.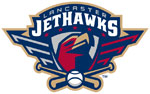 In addition to playing clips of the classic 1978 comedy film and testing fans with trivia questions about the movie, the team is offering free admission to anyone wearing a toga. Here's more of what the club has in store for the event:
"Shout" dance contest

Toga relay race

Zit-popping contest, in which contestants fill their mouths with whipped cream and see who can project the tasty dessert topping the farthest. ... See if you can guess what I am now ...

Postgame toga party with three live bands
Maybe it's a coincidence, but Thursday also happens to be $1 beer night at The Hangar.
Please drink responsibly, though. Fat, drunk and stupid is no way to go through life.