American League All-Stars manager Ron Washington left Yu Darvish off the initial roster for this year's game. But that doesn't mean the Texas Rangers manager doesn't want the first-year right-hander on the team.
See?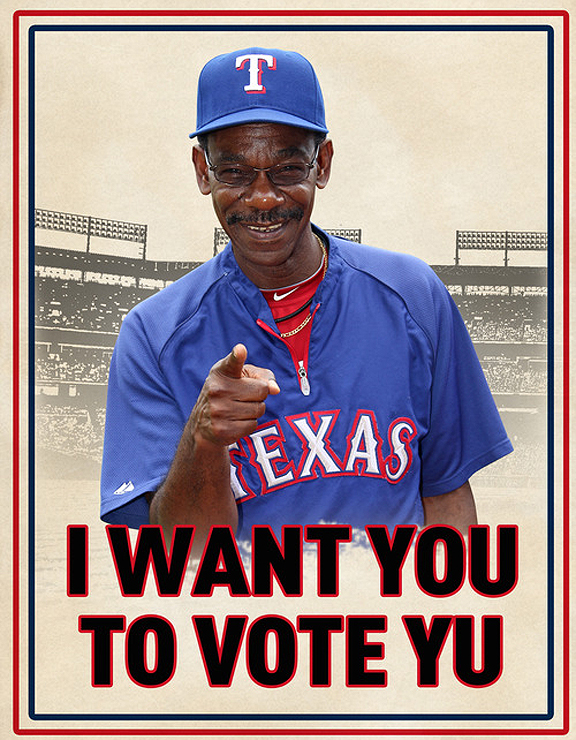 Yes, Washington is part of the Rangers pull-out-all-the-stops-then-pull-out-some-more push to get Japanese pitching sensation Darvish on top of this year's Final Vote standings, ahead of AL rivals Jonathan Broxton (Kansas City Royals), Ernesto Frieri (Los Angeles Angels), Jason Hammel (Baltimore Orioles) and Jake Peavy (Chicago White Sox).
The landing spot of this campaign -- beyond Major League Baseball's official site -- is the Rangers' Tumblr, where three more images have debuted since the final five's announcement on July 1.
On Monday:
On, well, you'll see:
And on Wednesday (of course):
Add to that a Twitter barrage under the hashtag #VoteYu going to and from the Rangers' main account (which now boasts that Washington poster as its avatar) ...
You did it! W/500 RTs, we'll give away 5 of these for Yu-esday! Use #VoteYu for a chance to win! atmlb.com/LVTOBy twitter.com/Rangers/status…

— Texas Rangers (@Rangers) July 3, 2012
Keep up the great work when Yu #VoteYu! "@disanitabeat: @Rangers #VoteYu &&& thats not even all of it... twitter.com/disanitabeat/s…"

— Texas Rangers (@Rangers) July 3, 2012
... and the question must be asked: Will this all-out All-Star campaign get the talented 25-year-old -- he of a 10-5 record, 3.59 ERA and 117 strikeouts in 102 2/3 innings -- on the team, especially in the face of similar (albeit smaller) campaigns for the likes of Frieri, Hammel and the others?
That'll be seen Thursday; Darvish led as of Wednesday morning, but voting (on this site or via text) doesn't end until 4 p.m. ET.
So, will you listen to this man?
#Rangers & AL #ASG Manager Ron Washington talks to media & encourages all fans to #VoteYu. twitter.com/Rangers/status…

— Texas Rangers (@Rangers) July 1, 2012
All images courtesy of the Texas Rangers.